3,500 students celebrate graduation this summer
Release Date 07 July 2014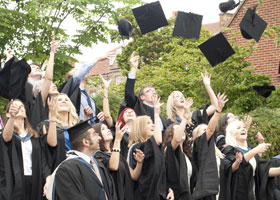 This week, nearly 3,500 students will graduate from the University of Reading. Eighteen ceremonies will be held on Wednesday, Thursday and Friday in the University's magnificent Great Hall on the historic London Road campus.
Graduates can enjoy the celebrations even more in the knowledge that studying at Reading has provided them with a great start to the next stage of their lives. This year, 93% of our graduates were in work or further study within six months of graduating from Reading.
Tweet your congratulations using #rdggrad!
Vice-Chancellor of the University of Reading, Sir David Bell said: "The University is extremely proud of all its graduates. Many will go on to achieve great things across disciplines as diverse as meteorology, fine art, construction management, law, biological sciences, food and nutritional sciences, and history to name but a few.
"By choosing Reading, one of the world's top 1% universities, our graduands now have limitless opportunities for a successful future. Having been taught by leading experts who are innovative and passionate about their subject, they have received a wonderful start to their career. My congratulations go to all who are graduating over the coming days."
ALUMNUS OF THE YEAR 2014
On Wednesday 9 July Andy Mackay, the founding member of legendary rock band Roxy Music, will receive the Alumnus of the Year award 2014. The Award was established in 2008 to recognise the outstanding achievements of individuals who have graduated from the University of Reading.
Andy graduated from the University of Reading in 1968 with a BA in Music and English Literature. While studying at Reading he made the connections that would lead him to help form one of the most inventive and original bands in British music history.
HONORARY DEGREES 2014
On Thursday 10 July Sir Charles Mayfield, Chairman of John Lewis Partnership , will receive an Honorary Degree for Doctor of Science. One of the UK's leading businessmen Sir Charles is also Chairman of the UK Commission for Employment and Skills.
On Friday 11 July Sir Keir Starmer, KCB QC will be awarded with an Honorary Degree of Doctor of Laws. Sir Keir was the fourteenth Director of Public Prosecutions (DPP) and the sixth head of the Crown Prosecution Service (CPS).