Chairman of John Lewis Partnership awarded Honorary Degree
Release Date 11 July 2014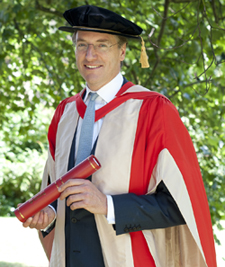 The University of Reading is delighted to have presented Sir Charlie Mayfield, one of the UK's leading businessmen, for an Honorary Degree of Doctor of Science.
Sir Charlie has been Chairman of the John Lewis Partnership since 2007. He began his career as an army officer, serving in Northern Ireland before retiring from the services in 1991. In 1992, he moved to SmithKline Beecham, where he became Marketing Manager for the Lucozade brand. He later worked for McKinsey & Company Inc. where he specialised in consulting for the retail and consumer sectors.
In 2000, Sir Charlie joined the John Lewis Partnership and rose rapidly through the organisation. Initially, he was responsible for business strategy for both John Lewis and Waitrose. In 2001, Sir Charlie joined the Board as Development Director where he was responsible for developing and promoting the online strategy of the Partnership. In 2005, he was appointed as Managing Director of John Lewis, before taking up his current post as Chairman.
Sir Charlie was a public advocate of the John Lewis Partnership business model, saying 'by creating a culture of ownership, people feel valued so they perform better. That is a very powerful performance lever'. This championing of the 'employee ownership model', coupled with his criticism of the disparity between executive and employee pay, brought Sir Charles to the attention of Government. He was appointed Chairman of the UK Commission for Employment and Skills in 2010 - a position he still holds. He is also President of the Employee Ownership Association.
In June 2013 Sir Charlie received a Knighthood for services to business.
Sir Charlie Mayfield said: "I am honoured and delighted to accept the honorary degree and become an honorary graduate of the University of Reading."
Sir Charles Mayfield was presented for the Honorary Degree of Doctor of Science at the 12 noon ceremony on Thursday 10 July 2014 by Professor Tony Downes, Deputy Vice-Chancellor of the University of Reading.
Professor Downes said: "It was a great pleasure to present Sir Charlie with his Honorary Degree. His connection with the town of Reading goes back to the year 2000 when he first joined the Partnership - John Lewis Reading was his training branch. Sir Charlie's rapid rise in the John Lewis Partnership has seen him become one of the most influential business leaders in the UK. His dedication and accomplishments stand as a model for those of our students who aspire to succeed in the world of business."