Leading legal figure awarded Honorary Degree
Release Date 14 July 2014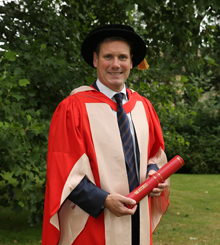 The University of Reading is delighted to have presented former Director of Public Prosecutions and Head of the Crown Prosecution Service, Sir Keir Starmer QC for an Honorary Degree of Doctor of Laws.
Sir Keir has led a varied and distinguished career during which he has been at the forefront of human rights legal issues. As Director of Public Prosecutions between November 2008 an October 2013 he oversaw very high-profile cases, from the prosecution of serving Government minister Chris Huhne, to the post-Jimmy Saville celebrity sexual offences cases.
Sir Keir graduated with a First Class degree of Bachelor of Laws from the University of Leeds. He then obtained the degree of Bachelor of Civil Law from the University of Oxford and become a barrister in 1987. In 2001 he received the Human Rights Lawyer of the Year award and became a Queen's Counsel in 2002.
In 2007 he was being voted QC of the Year in the field of public law and human rights by Chambers Directory of Legal Practitioners. Prior to his role as Director of Public Prosecutions, Sir Keir was best known as a defence lawyer with a particular interest in human rights.
From 2003 to 2008 he was Human Rights Advisor to the Northern Ireland Policing Board. He was also a member of the Foreign Secretary's Advisory Panel on the Death Penalty from 2002 to 2008 which was instrumental in the abolition of the mandatory death penalty in certain Caribbean states.
In 2005 Sir Keir persuaded the House of Lords that evidence obtained by torture should be inadmissible in court. He is now leading an inquiry into changing the law to give further protection to vulnerable witnesses including victims in cases of child abuse.
Sir Keir was knighted in the 2014 New Year Honours for services to law and criminal justice.
Sir Keir said: "It is a very special honour to be able to formalise an association with Reading University through this award. I look forward to contributing to the continued success of this great University."
Sir Keir Starmer was presented for the Honorary Degree of Doctor of Laws at the 12 noon ceremony on Friday 11 July 2014 by Professor Christopher Hilson, Head of the School of Law.
Professor Hilson said: "Sir Keir's influence on the country's legal matters and systems over the last 20 years cannot be overestimated. As Director of Public Prosecutions, Sir Keir introduced much-needed transparent prosecution guidelines for sensitive case areas including child sexual abuse and assisted suicide. These are now a vital tool for the Crown Prosecution Service to approach difficult questions and issues effectively. It was a great pleasure to present Sir Keir with his Honorary Degree."