Leading Classicist elected Fellow of the British Academy
Release Date 18 July 2014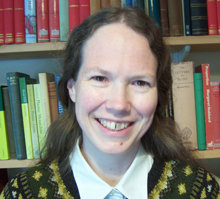 The University of Reading is delighted to announce that Professor Eleanor Dickey has been elected as a Fellow of the British Academy.
This prestigious award reflects Professor Dickey's standing as a leader in the field of Latin and Greek languages and linguistics.
The British Academy is the UK's national body which champions and supports the humanities and social sciences. This year the Academy elected 42 highly distinguished UK academics in recognition of their outstanding research.
Eleanor Dickey was educated at Bryn Mawr College in America and Merton College Oxford, where she received her PhD twenty years ago. She has published more than eighty scholarly works, including four monographs, which have revealed a fascinating insight into life in the ancient world.
Her most recent book, The Colloquia of the Hermeneumata Pseudodositheana, concerns one of the Western world's oldest surviving children's books. This ancient textbook was designed to help Latin speakers learn Greek and Greek speakers learn Latin.
Professor Dickey has reconstructed the ancient textbook from medieval manuscripts and fragments of ancient papyri and translated it into English. The text is a priceless insight into daily life in the Roman Empire, containing school scenes and dialogues illustrating shopping, banking, bathing, and dining.
Professor Dickey joined the University of Reading in 2013; she has previously taught at the University of Ottawa in Canada and Columbia University in New York.
Professor Dickey said: "I am thrilled to have been elected to the British Academy, an organisation whose members include many people I greatly admire and whose work I find inspiring. It is wonderful that they consider me worthy to join their ranks. In doing so they have conferred on me a tremendous honour and I shall do my best to live up to it."
With Eleanor's appointment, the University of Reading is now one of only five universities in the country with a British Academy classicist currently in post.
Including retired faculty members the British Academy Classics section now includes four current or former Reading classicists.
"This large number is very unusual for such a small department," added Professor Dickey. "This is a testimony to the supportive and productive environment Reading offers its staff. I am enjoying my time at the University of Reading enormously."
Professor Annalisa Marzano, Head of the Department of Classics, said: "Many congratulations to Eleanor. This tremendous honour is testament to her work which is transforming our understanding of theancient world. Her role in developing the careers of academics is also very noteworthy. The Hortensii project, which Eleanor founded, is a key initiative for PhDs looking to find permanent academic jobs."
The new British Academy Fellows span the full range of the Academy's subject areas across the humanities and social sciences, from history to psychology, economics to law, literature to philosophy and languages to archaeology.
Lord Stern, President of the British Academy, said: "I am delighted to welcome these fine researchers and scholars into our Fellowship. Our Fellows are elected from across the UK for their distinction in the humanities and social sciences. Together they represent an unrivalled reserve of expertise and knowledge."