Join the search for a mysterious Roman King at the Silchester Open Days
Release Date 22 July 2014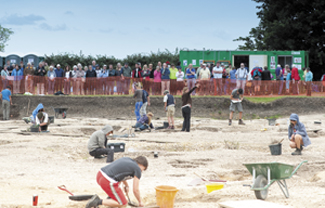 Find out more about Roman Britain by visiting the University of Reading's Silchester Roman Town Open Days on Saturday 26 July and Saturday 9 August.
On both days, which are free to attend, the public have a wonderful opportunity to find out how life really was in a Roman town. Silchester experts will giving tours and talks. Children can dress-up as Celts or Romans and take part in a mini excavation as well as handle some fascinating finds.
This is the last year of the Silchester Field School which takes place every summer. For six years first year archaeology students at the University of Reading take part along with external participants from all over the world.
The Silchester team aims to build on exciting evidence from last year that a palatial-style building could be waiting to be discovered. Experts believe it may be related to the reign of the Roman client king, Cogidubnus/Togidubnus, whose kingdom extended across southern England.
Professor Michael Fulford said: "Our Open Days offer fun for all the family. Our team of experts will provide some fascinating insight into Roman life and visitors can watch the excavators at work....you never know what they might find!"
The Open Days will run from 10:00am to 4:30pm. For directions to the site, please visit www.silchester.rdg.ac.uk/directions