Reading moves up to 30th in the Guardian University Guide
Release Date 03 June 2014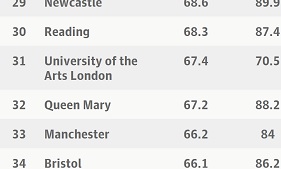 University of Reading has moved up eight places to 30th in the Guardian University Guide 2015 published today.
It has been ranked fifth out of 16 institutions in the South East and above seven institutions in the Russell Group.
The Guardian University Guide focuses on student satisfaction and services, rather than research quality as with other rankings. Key indicators include the latest National Student Survey; spending per student; student/staff ratio; graduate career prospects; and a value-added score based on average final degree results compared to entry qualifications.
The results come after Reading consolidated its position in the latest Complete University Guide published last month.
Other headline findings include:
• Reading is ranked 21st for student:staff ratio and 22nd spending per student out of 116 institutions ranked - up from 30th and 40th respectively last year.
• Seven subjects in the top 25% nationally in their respective fields: Accounting and Finance; Agriculture, Forestry and Food; Design and Crafts; Building, Town and Country Planning; Business, Management and Marketing; Earth and Marine Sciences; Education.
• Seven subjects in their respective top 10s: Accounting and Finance (1st); Agriculture, Forestry and Food (3rd); Earth and Marine Scienes (3rd); Education (3rd); Building, Town and Country Planning (5th); Business, Management and Marketing (8th); Pharmacology & Pharmacy (8th).
Vice-Chancellor Sir David Bell said:
"It is always good news to move up the national rankings and perform well against our competitors. At the same time though, it is important to be cautious about league tables and, in particular, one year's results. A university's qualities are never as clear cut as the tables suggest. Crucially too, a league table does not capture the hard work of our staff so, as ever, I pay tribute to everyone concerned.
"We have been listening carefully to what our students have been telling us. That is why our £4.4m library refit finishes in 2014 and we are now offering 24/7 term-time access to all students. We finish our £148m revamp of our student accommodation this summer - part of a multi-million pound investment in teaching and research facilities. And the latest figures show 93% of our students are in employment or further study six months after leaving - three quarters in professional and graduate-level jobs - as a result of our efforts to prepare them for life beyond university.
"We can never be complacent in the fast-moving world of higher education. So, we will continue to build further on the great teaching and outstanding research that already takes place here at the University of Reading."