Babies' early social relationships influence life skills

Release Date 18 June 2014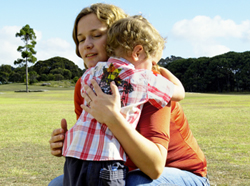 By sharing experiences such as book-reading, cooking or pretend play with babies as young as two, parents can help shape their children's lives for the better.
This is one of the valuable tips for parents highlighted in a new book on baby development written by Lynne Murray, Professor of Developmental Psychology at the University of Reading.
The Psychology of Babies: How Relationships Support Development from Birth to Two is a new accessible parenting guide which highlights how engaging children in activities early on encourages good skills and habits in later life. Conversely it shows that children who do not participate in such experiences are more likely to be oppositional or aggressive later when older.
After a lifetime of observing parents and infants communicating in the UK and Africa, Professor Murray is an internationally recognised expert in child development. In her new book she explores issues including babies' sleep problems, postnatal depression, managing defiant behaviour and using embarrassing 'baby talk'.
Professor Murray said: "The early environment, and particularly early social relationships, are crucial shapers of a child's development. Although the parent/infant bond has existed naturally for generations, the modern science behind babies' psychological development is very complex.
"Understandably, people are concerned about children's cognitive development, academic school performance, and their mental health and well-being. Research shows that consistent, high quality care in the first two years sets children on a positive developmental pathway that has an impact on that person in their adult life."
Professor Murray has worked extensively with babies whose mothers are depressed, anxious or living in deprived circumstances. Her research shows that the difficulties depressed parents have with their babies - noticing the baby's signals and cues, being able to respond to them appropriately and enjoy being with them, especially when these difficulties persist over several months - are associated with an increased risk of difficulties in the child's development.
Professor Murray continued: "It is important to help parents understand their baby's needs and signals, so that positive cycles of relationships can be built up, and so that negative behaviour patterns do not become too entrenched. We know that the longer they go on, the more firmly established they become, and the more difficult it is to put things right in later development."
The book shows how much of what parents do naturally, in ordinary ways, is very helpful to babies' development but that different parenting skills are required in different situations.
The book is divided into four chapters.
Social understanding - the way in which babies relate to and understand other people changes over the first two years. Early face-to-face play, and then later pretend games and, later on, conversations about what people are thinking and feeling, all help children to understand others and learn to cooperate.
Attachment - supporting babies so that they become secure is vital in a child's development, as this helps them to become resilient and well-adjusted. Aside from attachments to family members, babies' attachments in day care can help their development. Day care is the fastest growing form of care for babies and toddlers, and research shows that provision of care is better in those countries where it is tightly regulated and well-supported by government. This book focuses on understanding which aspects of daycare are most important for babies' security, as well as their social and cognitive development, and how babies' experiences and relationships can best be managed in this context.
Self-control - supportive parenting can help babies to regulate their difficult emotions and behaviour and this book illustrates how to encourage positive experiences, such as using play to encourage a reluctant child to brush their teeth, as well as how to manage difficult patterns of behaviour such as aggression or anxiety.
Intelligence/cognitive development - this book explores how joint parent-child interactions support the development of a range of skills including language, reasoning and motor skills. It highlights for example the benefits of book-sharing compared with watching TV.
The Psychology of Babies: How Relationships Support Development from Birth to Two by Lynne Murray (Constable and Robinson, RRP £16.99) is available from all major book retailers.
Ends
For more information or to arrange interviews with Professor Lynne Murray, contact Susannah Penn or Jane Bevan at Firebird PR on 01235 835 297 or email sp@firebirdpr.co.uk
Review copies of The Psychology of Babies are available upon request from Firebird PR.
Notes to Editors
Constable & Robinson is a leading publisher of fiction and non-fiction works and is well-respected for their successful psychology titles. Constable & Robinson joined Little, Brown Book Group in February this year.
The University of Reading is listed among the top 1% of universities in the world (THE World University Rankings 2014)
The University's School of Psychology and Clinical Language Sciences is a world leader in teaching, research and training. The international research standing of the School is based on a world class contribution to psychology and neuroscience in a number of areas, with the bridge between neuroscience and clinical disorders being a common theme to much of its work. The School comprises the Department of Psychology, the Department of Clinical Language Sciences, the Charlie Waller Institute and the Centre for Integrative Neuroscience and Neurodynamics.
The Department of Psychology has a long-standing reputation for excellence in experimental psychology, perception, learning, memory and skilled performance. In more recent years, research has strengthened in the field of developmental psychology, neuroscience, ageing, virtual reality and behaviour change.
The Department of Clinical Language Sciences focuses on research and teaching in the area of typical and atypical speech and language acquisition and in acquired speech and language disorders. The emphasis on clinical research is enhanced by on-site NHS clinic facilities.