Reading celebrates composer and former lecturer Gustav Holst
Release Date 25 March 2014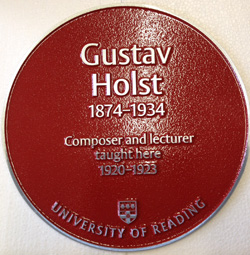 The University of Reading's Chancellor Sir John Madejski has unveiled a special plaque to celebrate the great Gustav Holst's teaching career in its music department.
Holst, perhaps best known for his 'Planets Suite', was teacher of harmony and composition at the University of Reading from 1920-1923. He also conducted the University's orchestra and choral society. In 1923 he infamously fell from the stage in the University's Great Hall stage while conducting, suffering a mild concussion.
Although there are no documented reports of the incident, material from the University's archive has revealed the esteem in which students held their illustrious lecturer. He is described as 'a curious blend of the visionary and the practical - a rare combination indeed'. His teaching style was 'to draw out of his pupils all that was best of them by any means in his power' and 'making them learn by doing'. The secret of his teaching success 'came as much from the joy which he got from music and with which he infected them'.
The unveiling of the Gustav Holst plaque forms part the of the University's commemorative plaque scheme. Over the last 12 months, Reading-born music legend Geoff Goddard and Edith Morley, believed to be the first woman to be awarded the title of professor in a British university, have been celebrated though the scheme.
Sir David Bell, University of Reading Vice-Chancellor, said: "We are delighted to be celebrating the achievements of noteworthy individuals and their contribution to the University. Gustav Holst was one of the truly great composers. Being a student of his must have been exciting and inspiring. It is therefore fitting that we recognise his University of Reading career in this manner."
During the ceremony Liz Morgan, Leader of the Student Ensemble in Residence and a final year music specialism student in the Institute of Education, gave a short citation on Holst.
Liz said: "It's a great privilege to perform on the same stage on which Holst conducted. Performing his works in the Great Hall has been a particular highlight of my time at the University of Reading. As a keen composer myself he is a true inspiration. I hope to continue with my composing endeavours to achieve exciting and exhilarating music as per Holst."
The plaque will be displayed outside the Great Hall on our London Road campus.