Design education 'pioneer' receives prestigious international award
Release Date 08 May 2014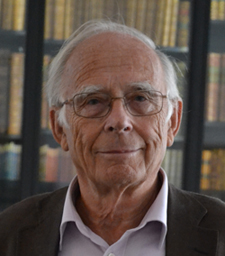 The University of Reading is delighted to announce that Professor Michael Twyman has been awarded the 2014 Sir Misha Black Medal for Distinguished Services to Design Education.
This prestigious prize, the only one of its kind, is awarded annually and recognises individuals across the globe who have made a significant contribution to design education.
Professor Michael Twyman is a design education pioneer. In 1968 he initiated a 'design for reading' course at the University of Reading, combining intellectual and practical work. This was the first course of its kind at a British university and led to the establishment of the Department of Typography & Graphic Communication in 1974. Generations of students have benefited from his approach to education that is inspirational, challenging and inclusive.
Professor Twyman's approach to design education through typography, while integrating history, theory and practice, has ensured that his legacy is far reaching. Today universities and colleges throughout the world employ academics who studied under his guidance. His graduates occupy positions in fields as diverse as magazine and book publishing, information design and wayfinding, with others helping to shape the future of digital companies such as Nokia, Adobe, Microsoft and Google.
Professor Twyman said: "I am privileged and honoured to receive the Sir Misha Black Medal for 2014 and delighted that it recognises the international significance of the Department of Typography & Graphic Communication at Reading."
Sir David Bell, Vice- Chancellor of the University of Reading, added: "Michael Twyman has been a visionary in typographic design. He has helped transform its study as an academic discipline and set the highest benchmark for designers around the world to follow. It is no exaggeration to say that his teaching and research has helped change the look and feel of the world around us - in magazine, newspaper and book design; marketing and advertising; and the digital industry."
Michael is a recognised expert on the history of lithography and has authored many books and publications on subjects relating to the history of printing and graphic design. His passion for his subject has led to the establishment of many internationally important archives including the Isotype Archive and Rickards Collection of Ephemera. He retired as Head of the Department in 1998 but is still passing on his vast knowledge and expertise by teaching postgraduate students.
Sue Walker, Professor of Typography and who nominated Michael for the award, commented: "Michael's work made me want to be an academic. His example showed me how to be a teacher. My research followed his belief that the new field of typography and graphic communication should embrace other disciplines, such as linguistics, psychology, social and economic history, architecture, and computer science. His influence has been inspirational and continues to be far-reaching."
The Sir Misha Black Awards were established by the Royal College of Art, the Faculty of Royal Designers for Industry, the Royal Academy of Engineering, the Design and Industries Association and the College of Medallists to commemorate the life of architect, designer, and professor Sir Misha Black, whose pioneering work played a crucial role in the development of design in Britain.
Malcolm Garrett, Master of the Faculty of Royal Designers for Industry, said: "Under Michael Twyman, the University of Reading set an education standard in typography & graphic design which other universities struggle to match. In over 50 years it has garnered a reputation which underlines the UK's continuing role at the forefront of design education."
Professor Twyman received his award during the Sir Misha Black Annual Awards Ceremony on Wednesday 7 May at the Royal College of Art in London.
ENDS
Notes for Editors
For over 30 years the University of Reading's Department of Typography and Graphic Communication has been the only one of its kind in Britain. It offers a unique approach to design through a combination of practice, theory and history. The high standard and diversity of research in the Department are recognized by the 2008 Research Assessment Exercise, with 80 per cent of research being rated world-leading or internationally excellent.
Sir Misha Black
Misha Black (1910-1977) was born in Azerbaijan and came to England at the age of two where he was raised and educated. Despite receiving little formal art education, Black began designing posters at the age of 17 and in 1934 joined the Bassett-Gray design consultancy, later named the Industrial Design Partnership. During this period, he contributed to designs for a number of exhibitions including the interior for the British Pavilion at the 1939 New York World's Fair.
The Sir Misha Black Medal
Set up to commemorate the legacy of Sir Misha Black, the Sir Misha Black Medal is awarded to individuals across the globe who have made a significant contribution to design education. The only international award of its kind, The Sir Misha Black Medal is awarded collaboratively by Britain's leading design organisations with previous recipients including Max Bill (1982), Ettore Sottsass (1999), and Santiago Calatrava(2002).
First awarded in 1978, the Medal began life as a biennial event but has since become an annual date within the design world calendar.