'One size fits all' approach to treatment may put anxious teenagers' future at risk

Release Date 10 November 2014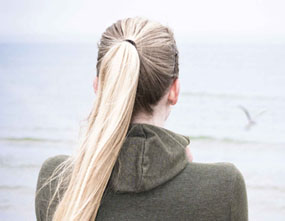 Teenagers with anxiety problems need more targeted treatment aimed specifically at adolescent issues for the best chance of a symptom-free future, says a University of Reading researcher.
In a new study Dr Polly Waite found that anxious teenagers experience very different and more severe symptoms to that of younger children - but often both age groups receive similar treatment.
Dr Waite believes this 'one size fits all' approach means serious issues could be being left untreated. This could lead to teenagers developing more severe problems later in life, putting individuals at risk from subsequent anxiety and depression, suicide, drug and alcohol abuse and educational under-achievement.
The study, funded by the Medical Research Council, compared the types of disorders and symptoms experienced by 100 children with that of 100 teenagers, referred for treatment. Compared to children, teenagers with anxiety disorders had more severe symptoms and were more likely to have anxiety around social situations as their main difficulty. On top of this, nearly one third had a mood disorder, such as depression, and around one in five had difficulties regularly attending school. Worryingly, all of these characteristics are known to be associated with poorer outcomes in therapy.
Dr Polly Waite, Clinical Lecturer from the School of Psychology and Clinical Language Sciences at the University of Reading, said: "Nearly 300,000 children and adolescents in the UK suffer from anxiety disorders. Most teenagers with anxiety problems receive cognitive behaviour therapy (CBT), and we know CBT works - 60% of children and young people who receive treatment are free of anxiety problems later in life. However that statistic could still be improved.
"We found that teenagers are often receiving treatment designed for younger children which is then simply adapted or made 'cooler'. Many teenagers therefore will be receiving treatment that does not specifically address symptoms that occur in adolescence. This may mean they have poorer treatment outcomes, putting their futures at risk. By targeting treatment more effectively, we could stop teenagers developing mental health problems, leading to fewer suicides and incidence of drug and alcohol problems."
In October 2014 the Deputy Prime Minister Nick Clegg recognised that mental health services are under-funded. Although families often report having to wait excessively long times for effective therapy there are currently no waiting time standards for mental health services. Despite the fact that many mental health problems begin in childhood, child services receive only 6% of the mental health budget and over three quarters of services have had budgets cut or frozen.
A further problem is that many clinicians are not delivering evidence-based treatment within clinical services. A recent national survey of clinicians working in child NHS mental health services reported that 40% rarely used CBT and more than two-thirds felt they needed further training to provide effective treatment.
Dr Waite continued: "Mental health services lack funds and direction but can still change the course of a child's life. When it comes to dealing with anxiety, we need to vastly improve how we treat teenagers. By dealing head-on with the symptoms found in adolescents, we could make a huge difference to young people's lives."
Children and adolescents referred for treatment of anxiety disorders: Differences in clinical characteristics was published in the Journal of Affective Disorders
ENDS
The University's School of Psychology and Clinical Language Sciences is a world leader in teaching, research and training. The international research standing of the School is based on a world class contribution to psychology and neuroscience in a number of areas, with the bridge between neuroscience and clinical disorders being a common theme to much of its work. The School comprises the Department of Psychology, the Department of Clinical Language Sciences, the Charlie Waller Institute and the Centre for Integrative Neuroscience and Neurodynamics.
The Medical Research Council has been at the forefront of scientific discovery to improve human health. Founded in 1913 to tackle tuberculosis, the MRC now invests taxpayers' money in some of the best medical research in the world across every area of health. Twenty-nine MRC-funded researchers have won Nobel prizes in a wide range of disciplines, and MRC scientists have been behind such diverse discoveries as vitamins, the structure of DNA and the link between smoking and cancer, as well as achievements such as pioneering the use of randomised controlled trials, the invention of MRI scanning, and the development of a group of antibodies used in the making of some of the most successful drugs ever developed. Today, MRC-funded scientists tackle some of the greatest health problems facing humanity in the 21st century, from the rising tide of chronic diseases associated with ageing to the threats posed by rapidly mutating micro-organisms.