Nursery school games encourage toddlers to try new healthy foods
Release Date 19 November 2014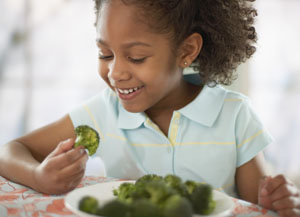 Toddlers could receive a kick-start to a healthier diet later in life by taking part in fun fruit and veg games at nursery school, new University of Reading research has found.
In a study of Berkshire nursery children, the researchers found that toddlers who had drawn, smelled and poked unusual vegetables, including sweet potato and pomegranates, were 32% more likely to taste them over other vegetables at a mealtime. The toddlers also touched 66% of the vegetables they had done the activities with, compared to only 49% of the unfamiliar vegetables.
Fruit and vegetable consumption is associated with lower levels of obesity and a reduction in the risk of cardiovascular disease and cancers of the mouth, lungs and stomach. The earlier healthy eating habits begin, the greater the health benefits. Yet, only one in five children achieve the recommended five portions of fruit and vegetables a day.
Vegetable consumption is especially low in young children. According to a recent National Diet and Nutrition Survey¹ pre-schoolers eat on average 74 g of vegetables per day, less than one adult portion. In some parts of the UK 40% of pre-schoolers eat no vegetables at all.
Dr Carmel Houston-Price, from the University's School of Psychology and Clinical Language Sciences, led the study. She said: "Fruit and vegetables are the cornerstone of a healthy diet. By developing a fondness for a wide variety of healthy foods toddlers stand the best chance of having a 'five a day' diet later in life.
"But getting toddlers to try something new is not an easy task. Most parents will have experienced frustration, and a messy floor, when encouraging their toddler to try different foods - especially when it isn't a high fat or sugary treat. Our study showed that introducing new foods through fun familiarisation activities such as letting children poke their fingers inside foods, smelling them and drawing pictures of them, increased toddlers' willingness to touch and taste them at mealtimes - especially the vegetables."
The study involved ninety-two children from six nurseries, aged between 12 and 36 months. They were separated into a control group and a study group which took part in sensory activities with unfamiliar foods, such as sweet potato, broad beans, rhubarb and pomegranates, every day for four weeks.
The researchers then conducted a mealtime taste test to see whether exposure to the fruit and veg made any difference to children's choices. Straight away, the researchers noticed that most children chose to touch and taste the fruit and vegetables that had been used in the activities first, before they considered whether to taste the foods they had not seen before.
Dr Houston-Price continued: "At around the age of two years, children become more cautious about what they will eat - which is sensible because as they become increasingly mobile they encounter lots of things that are not safe to eat. This means that toddlers, like many of us, like to know exactly what it is they are eating."
The research comes after health leaders called for an emergency taskforce to be set up to tackle childhood obesity in England earlier this year. The group called better co-ordination of obesity treatment services so that all children can be encouraged to eat healthily from a young age.
Dr Houston-Price added: "Poor diet in childhood is associated with obesity and increases the risk of a range of life-threatening illnesses in later life. Our research could help parents to introduce more vegetables into children's diets, and encourage children to make healthy food choices and actually enjoy eating healthily as they grow older."
The research was conducted as part of a Knowledge Transfer Partnership between the University and Ella's Kitchen, and jointly funded by Innovate UK, the Economic and Social Research Council and Ella's Kitchen.
The paper Exposure to foods' non-taste sensory properties. A nursery intervention to increase children's willingness to try fruit and vegetables was published in the journal Appetite.
ENDS
Notes to Editors
¹ https://www.gov.uk/government/statistics/national-diet-and-nutrition-survey-results-from-years-1-to-4-combined-of-the-rolling-programme-for-2008-and-2009-to-2011-and-2012
The University's School of Psychology and Clinical Language Sciences is a world leader in teaching, research and training. The international research standing of the School is based on a world class contribution to psychology and neuroscience in a number of areas, with the bridge between neuroscience and clinical disorders being a common theme to much of its work. The School comprises the Department of Psychology, the Department of Clinical Language Sciences, the Charlie Waller Institute and the Centre for Integrative Neuroscience and Neurodynamics.
The Economic and Social Research Council (ESRC) is the UK's largest funder of research on the social and economic questions facing us today. It supports the development and training of the UK's future social scientists and also funds major studies that provide the infrastructure for research. ESRC-funded research informs policymakers and practitioners and helps make businesses, voluntary bodies and other organisations more effective. The ESRC also works collaboratively with six other UK research councils and Innovate UK to fund cross-disciplinary research and innovation addressing major societal challenges. The ESRC is an independent organisation, established by Royal Charter in 1965, and funded mainly by the Government. In 2015 it will celebrate its 50th anniversary.