Systems Engineering students win Cisco University Challenge 2014
Release Date 27 November 2014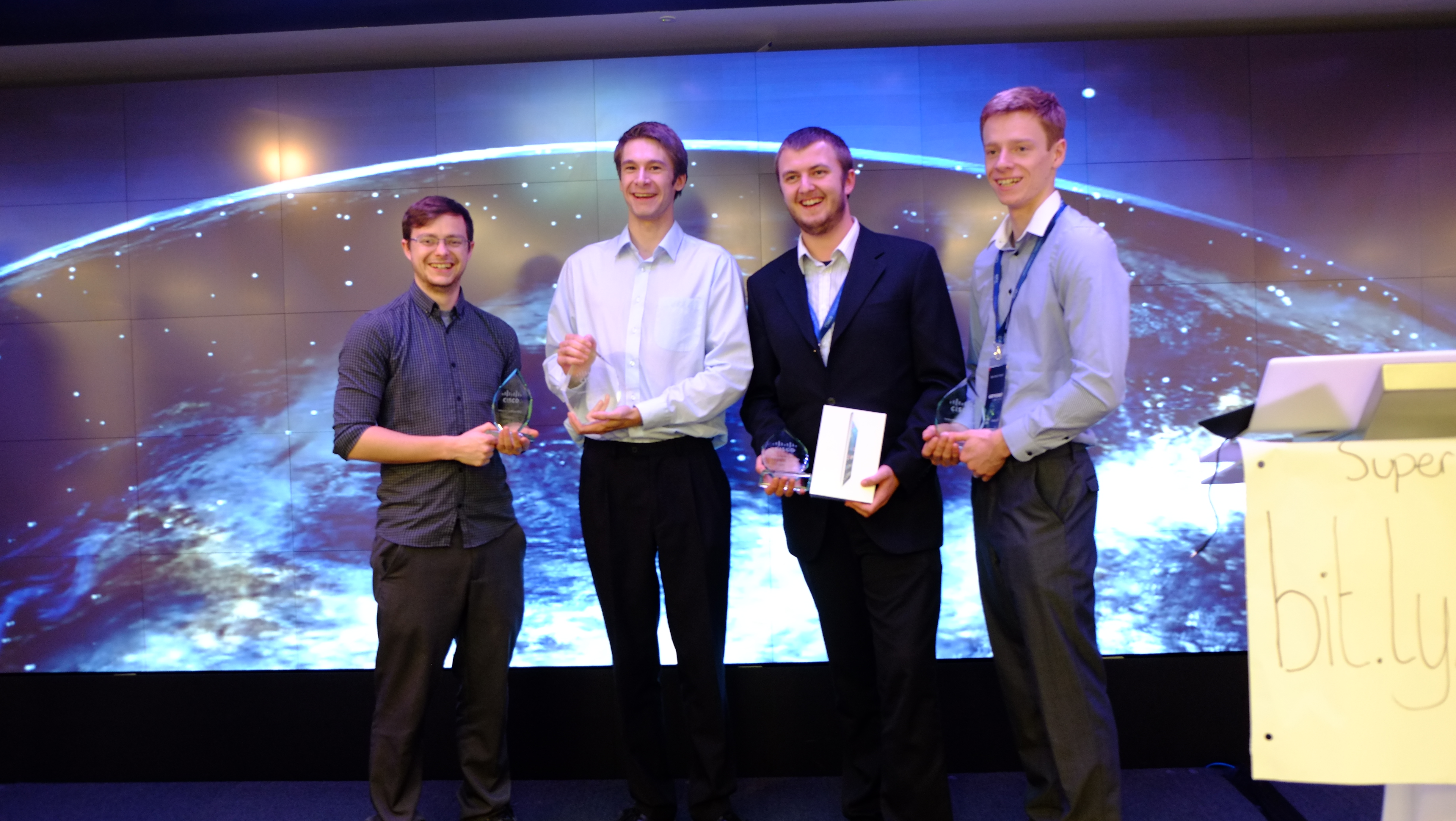 Last month, a team of students from the University of Reading (Aidan Hallett, Shane Bourne, Lee Kent and Marty Sweet) were crowned the winner of the Cisco University Challenge 2014. Designed to stimulate new and creative thinking around solutions capturing the value of the Internet of Everything, the team beat 100 of the brightest and most talented students from 20 leading UK universities.
This year's 24-hour challenge looked to specifically address the need for new technical, operational and commercial models in future railway stations. Tackling the problem statement for mobile situation awareness response, the winning design by the University of Reading sought to enable police forces to gather information from multiple sources, such as CCTV and social media, within range of an incident.
A dedicated judging panel put the candidates through their paces as they were tasked with designing and prototyping new Station-as-a-Service (StaaS) solutions. The student teams sought to address the connectivity demands of four groups: security providers, train operators, retailers and passengers. As Britain's transport networks become increasingly congested, delays and over-crowding present a genuine economic threat and the need to design solutions to enhance efficiency has never been more pressing.
In addition to the challenge, the teams also had the opportunity to meet with senior Cisco executives including Ian Foddering, Chief Technology Officer & Technical Director, Cisco UK&I, Sarah Eccleston, Director, Enterprise Networks, Cisco UK&I and Felix Gerdes, business development manager, rail transport & mass transit, Cisco.
Aidan Hallett, Fourth year Electronic Engineering student, and member of the winning team commented: "As a team, we all played to our strengths and worked very well together. Every University team took a huge amount from the event and had the opportunity to network with other students and Cisco employees. Winning the Cisco University Challenge has provided us with many future opportunities - whether this is start-up support from Cisco, potential job opportunities or just an addition to our CVs. We thank Cisco for giving us this opportunity and the University of Reading for bringing the competition to our attention."
Professor Virginie Ruiz, Head of School of Systems Engineering, University of Reading, said: "I'm delighted that the University of Reading team won the competition and became the first ever Cisco University Challenge Champions. It is a real success for the University and the School of Systems Engineering - we are very proud of our students' achievement. This is a great example of the enthusiasm of our students, not only about their studies, but also their willingness to engage in activities outside the University and never shying away from a challenge. Many congratulations to the winning team."
Ian Foddering, CTO & Technical Director, Cisco UK&I said: "The Cisco University Challenge acts as a launch pad for the brightest students to create innovative solutions to some of Cisco's and our customers' most technical challenges. This was a great opportunity to witness the next crop of talent coming into the industry, and we were all hugely impressed with the calibre, ambition and courage of all of our participating teams."