Global businesses meet their future workforce at University of Reading careers fair
Release Date 28 November 2014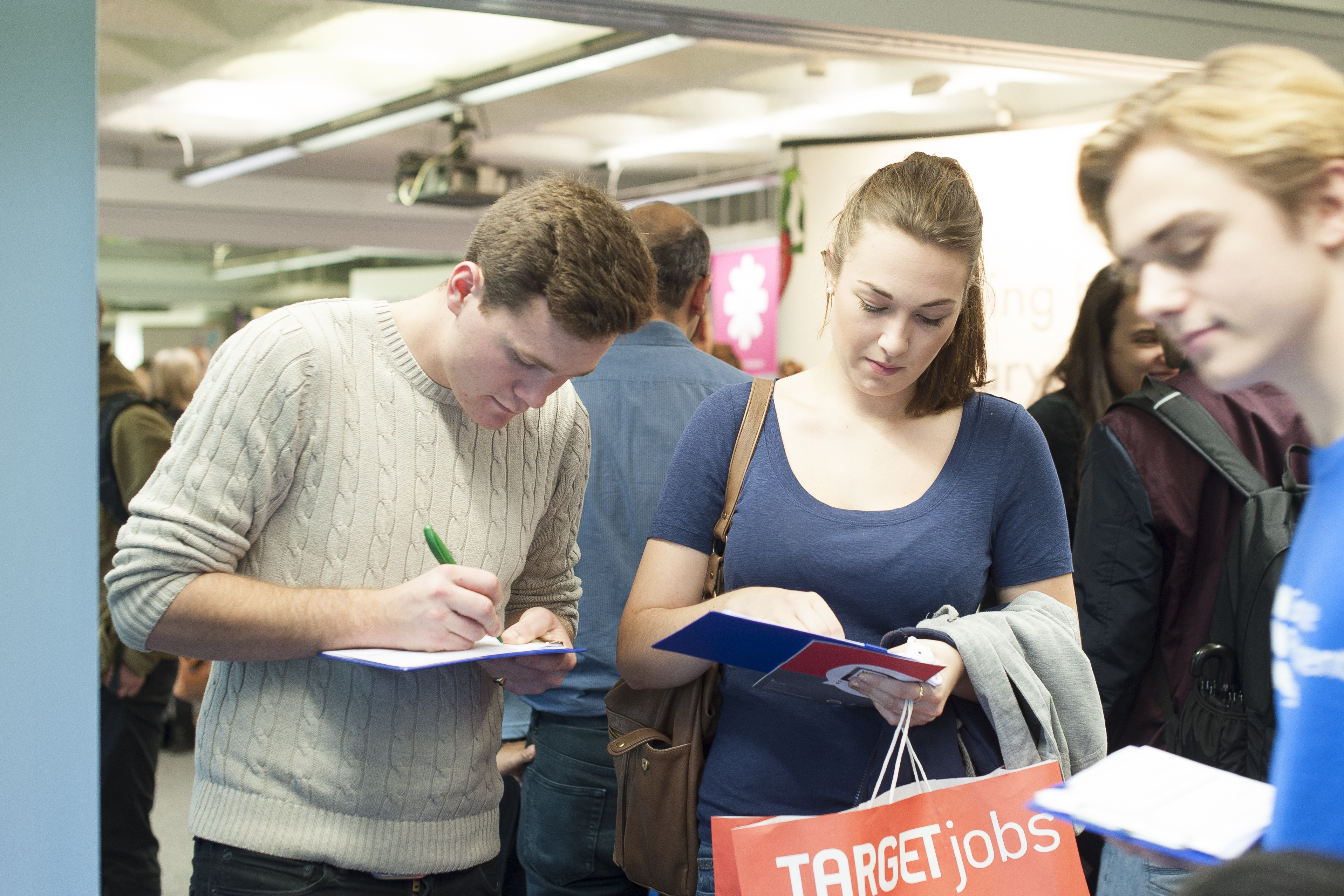 The University of Reading hosted its annual Careers and Placement Fair recently, attracting 84 local, national and international employers, and around 2,000 students. More than 30 companies attended the fair for the first time this year, including world-leading brands such as GlaxoSmithKline, L'Oreal, HSBC, BSkyB, and Kellogg's.
With graduate vacancies at their highest since 2007, the Careers and Placement Fair, which is the University's largest recruitment event for students from all years and subjects, provided an opportunity for students to explore the different career options available, search for placements or internships and speak with prospective employers.
A wide range of industries was represented, including food, agriculture, finance, engineering, computing, creative, leisure and charities. More than three-quarters of the businesses attending the fair were interested in students from any discipline, from classics to chemistry, English to engineering, two-thirds were offering internship opportunities and around one-third were offering prospects to work abroad.
Students also had the opportunity to speak with the University's Careers Advisors who were on hand to review CVs and offer information and advice, as well as explore postgraduate study options.
Lorna Froud, Director of Careers and Employability Services at the University of Reading, said: "Our Careers and Placement Fair continues to attract large numbers of students and employers alike. This year, we were really pleased to welcome some world-leading brands to the fair for the first time, as well as those that have been attending for a number of years, demonstrating our excellent links with business and industry.
"We know that employability and job prospects are high on the list of priorities for our students, which is why we place such emphasis on them here at Reading. As well as putting on the Careers and Placement Fair for all disciplines, we also host sector specific fairs and there are numerous opportunities for students to get involved in work experience and volunteering opportunities. For example, we organise the Reading Internship Scheme, which places students in summer internships with local businesses, and the Reading Experience and Development (RED) Award, which formally recognises and rewards extra-curricular work experience, volunteering, casual work and self-development."
Will Cummins from PwC, sponsor of the University of Reading Careers and Placement Fair 2014, said: "The University of Reading Careers and Placement Fair is always well attended by students and employers alike, which is why we have been delighted to support the fair for a number of years. It is the perfect opportunity for us to meet with potential candidates from Reading and we always look forward to meeting students from all subject areas who want to talk to us about possible placement and graduate scheme opportunities."
University of Reading graduates have a long-standing record of getting good jobs, and Reading's record for graduate employability is well above the national average. Six months after graduating, 93% of Reading graduates describe themselves as being in employment, voluntary work or further study, and more than three-quarters (76%) of those in work are in professional or managerial jobs.