University of Reading announces 2014/2015 public lecture series
Release Date 02 October 2014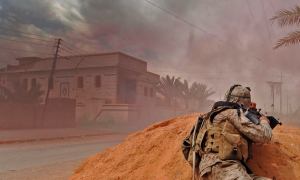 What makes us human, baby development and war in Iraq are some of the intriguing topics to be discussed at the University of Reading's upcoming 2014/2015 Public Lecture Series.
The Public Lecture Series showcases research highlights from across the University. Established over forty years ago, these popular lectures are given by Reading academics eminent in their field and cover a wide range of topical subjects.
Ann Westgarth, Community Relations Manager at the University of Reading, said: "Engaging the community in the cutting-edge research we undertake is a key aim of the University. �Each lecture is free to attend and provides an insight into a range of fascinating topics. We are always delighted at the turnout for our public lectures and we hope that the fantastic programme for the forthcoming series will be just as popular."
Details of the four events that will form the 2014/2015 Public Lecture Series are below:
Wednesday 15 October 2014: The Iraq wars: past, present and yet to come
Iraq's wars never seem to end. From the middle ages to modern day, outsiders have presumed to impose their will on the country. In this lecture, Dr Patrick Porter, Department of Politics & International Relations will examine what he argues to be the flawed ideology behind these invasions, and, ultimately, the determination of Iraqis to make their own history.
Wednesday 19 November 2014: Planet of the Apes. What makes us human?
Chimpanzees are our closest living evolutionary relatives; they share some 94% of our DNA and possess many qualities that can be described as human. In this lecture, Professor Emma Borg, Department of Philosophy, will discuss the philosophical conundrum, �what makes us human?' and will explore whether this really is a planet of the apes.
Wednesday 4 February 2015: The psychology of babies
In this lecture, Professor Lynne Murray, School of Psychology & Clinical Language Sciences will examine how a child's psychological development - their social understanding, attachments that they form, emotional control and even their intelligence - can be affected by different parenting techniques.
Wednesday 18 March 2015: The weather at war
Dr Andrew Charlton-Perez, Department of Meteorology will explore the science behind one of the most important weather forecasts in modern military history: the D-Day landings.
The lectures are open to members of the public and admission is free. All lectures will take place in the Palmer Building, Whiteknights campus. Doors will open at 7.15pm for an 8pm start.
For more information, and to register, please visit the Public Lecture Series website.
�
�
�
�