University students and local community join forces for the Grow Wild scheme
Release Date 07 October 2014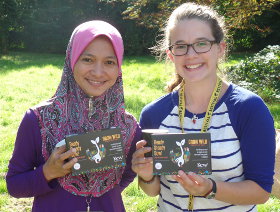 Students from the University of Reading and keen gardeners from the surrounding area came together last week to plant wild flower seeds in the University's Harris Garden in aid of the Grow Wild project.
Alongside Sir David Bell, Vice-Chancellor of the University of Reading, members of the Friends of the Harris Garden and Friends of the Earth groups joined students from the Wildlife Conservation & Ecology Society, spending the morning getting their hands dirty in order to transform 300 square metres of bare soil into what should become a riot of colourful wild flowers next spring.
Supported by the Big Lottery Fund and led by Royal Botanic Gardens, Kew, Grow Wild is a four-year programme that aims to bring people together to sow UK native wild flowers. The UK has lost 97% of wild flower meadows since the 1930s. This not only means less colour in our lives but it is impacting on populations of butterflies, bees, pollinating bugs and birds.
As research from the University of Reading's Centre for Agri-Environmental Research has found, UK bee populations are in decline, partly due to a lack of wild flowers across the British countryside, which could result in a drop in the pollination of many commercial crops worth millions of pounds to the UK economy.
Giles Reynolds, Head of Grounds at the University, said: "We are delighted to be participating in the Grow Wild initiative. It is not only a vitally important project to increase the wild flower population in the UK, it is also a great way to bring students from the University together with the local community. The event proved very popular with around 40 students and 30 members of the public taking part."
Trudi Rehman, volunteer co-ordinator from the Friends of the Harris Garden said: "It is good to see the University getting involved with projects like this, and great to be invited along. The Harris Garden is already a wonderful place but I am looking forward to seeing the colourful wild flowers come through next spring."
For anyone wishing to visit the Harris Garden, the next open day will be taking place on 12 October 2014.