Reading celebrates one year with FutureLearn
Release Date 13 October 2014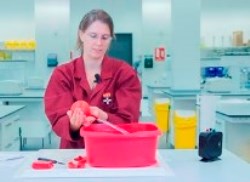 This week FutureLearn - the open online course provider - celebrates its first birthday and at the University of Reading we celebrate a successful first year of running our own courses via the platform.
While on average, FutureLearn courses attract 8-10,000 participants, our most popular course, "Begin programming: building your first mobile game", attracted some 38,000 learners on its first run, and Reading courses have so far attracted some 150,000 participants in total. This is thanks to the high quality of the courses which a wide range of academic colleagues have developed in conjunction with the open online course team.
In the last year, Reading has run five distinct courses on the platform:
Begin programming: building your first mobile game (School of Systems Engineering)
A beginner's guide to writing in English for university study (International Study and Languages Institute)
Managing people: engaging your workforce (Henley Business School)
Obesity (School of Chemistry, Food Biosciences and Pharmacy)
Heart health: a beginner's guide to cardiovascular disease (School of Biological Sciences)
Two other courses will run in the next few months, "Our changing climate: past, present and future" (School of Mathematical and Physical Sciences) and "Food security" (School of Agriculture, Policy and Development), as well as re-runs of popular courses.
All FutureLearn courses are free to take, with no charge for the basic course and no checks on entry qualifications; are delivered online via the FutureLearn platform; are aimed at attracting large numbers of participants; and are examples of the so-called MOOCs (Massive Open Online Courses).
"This is a very positive, timely and exciting initiative with which to be involved, providing Reading with the opportunity to further consolidate its global reputation by providing high-quality learning products via FutureLearn", said project lead Shirley Williams, Director of Open Online Courses.
Providing high-quality and relevant MOOCs may encourage students to undertake further (fee-paying) study at the University. Early evidence from the School of Systems Engineering shows that some 10% of the school's incoming first years indicated that the FutureLearn course had influenced their decision to join Reading.
For a list of courses the University of Reading is running in the future, visit https://www.futurelearn.com/partners/university-of-reading.