Henley Business School masters the MBA with rise in Economist rankings
Release Date 14 October 2014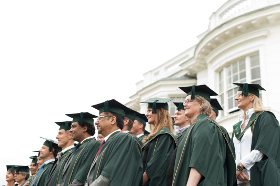 Henley Business School has been ranked 2nd in the UK in the latest full-time Master of Business Administration (MBA) rankings from The Economist, and is just one of only three UK business schools in the top 40 worldwide.
The Economist ranking uses survey data including quality of students and programmes, and alumni and current participants' evaluation of their experience with us. Within the detail of these findings, Henley Business School was ranked:
world number 1 for potential for students and alumni to network
in the top 3 for personal development and educational experience.
Professor John Board, Dean of Henley Business School, said: "These results do not come easily and are thanks to the hard work and dedication of everyone here in helping improve our reputation as a world-class business school of outstanding quality."
For further details of the survey findings, read http://www.henley.ac.uk/news/news-item/economist-full-time-mba-ranking-2014.
The top 10 UK business schools as ranked by The Economist are:
London Business School
Henley Business School
Warwick Business School
University of Bath
University of Strathclyde
University of Cambridge (Judge)
Cranfield School of Management
City University (Cass)
University of Oxford (Saïd)
University of Nottingham
For the full rankings, visit http://www.economist.com/whichmba/full-time-mba-ranking.