University of Reading playing key role in driving regional economy
Release Date 15 October 2014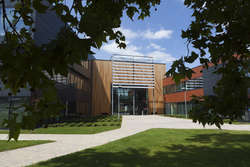 Around 200 senior business leaders and key players in the regional economy attended the Confederation of British Industry (CBI) Thames Valley Annual Dinner this month.
At the event, which was sponsored by the University of Reading, attendees discussed the importance of the Thames Valley region to the UK economy as a whole, and how businesses could benefit from expertise provided by world-class universities in the region.
Guest speakers at the event included the Rt Hon Dominic Grieve QC MP, Conservative MP for Beaconsfield and former Attorney General, and Vivian Hunt, managing partner for McKinsey & Company in the UK & Ireland. Also in attendance was Sir David Bell, Vice-Chancellor of the University of Reading.
The keynote speeches focused on the UK's competitiveness; highlighting the importance of the Thames Valley region within this context, as well as the University of Reading's importance within the region.
Steve Rankin, CBI regional director, said: "The CBI Thames Valley Annual Dinner is an important event in the calendar. It is not only an opportunity to network at the highest levels, but also a chance for regional business owners and entrepreneurs to reinforce their commitment to the business community.
"It was fantastic to have the support of the University of Reading for this event - as a large driver for the local economy it is important that it is involved in high-level business discussions."
Sir David Bell, Vice-Chancellor of the University of Reading, said: "The University of Reading has long been at the heart of the Thames Valley's dynamic, thriving economy - generating £650 million growth for the region every year.
"We work with scores of employers across the area, and our planned £50 million Science and Innovation Park will complement our existing Enterprise Centre on campus, where we host 80 companies in purpose-built facilities.
"The CBI is a long-time supporter of collaboration, encouraging industry to work side-by-side with outstanding academics and helping smaller and medium sized enterprises to tap into cutting-edge thinking. We are proud to be working alongside it."