Expert comment: Atlantic hurricanes 'fewer but stronger' in 2014
Release Date 17 October 2014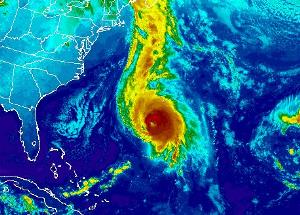 Hurricane Gonazalo is set to disrupt life in Bermuda this weekend, before its remnants cause problems across Britain early next week. This year's Atlantic storm season has been relatively quiet - but those storms that have formed have been bigger than average, as experts from the University of Reading's Department of Meteorology comment:
Dr Chris Holloway, an expert in tropical storms at the University of Reading, said:
"Hurricane Gonzalo is a dangerous storm. It has already left one person dead on St Maarten and several people injured in Antigua as it strengthened into a hurricane on Monday night and Tuesday morning.
"Gonzalo is now the strongest Atlantic hurricane since Opheilia in 2011, with winds of 145 mph earlier this week putting it in the second most intense category for hurricanes, Category 4.
"The latest forecasts have the centre of Hurricane Gonzalo passing within around 30 miles of Bermuda on Friday afternoon, which is virtually a direct hit. This could result in strong storm surge and significant wind damage in Bermuda, although the island is well prepared for hurricanes, which reduces the risk to public safety.
"After passing by Bermuda, Gonzalo could strike or pass near southeastern Newfoundland on Sunday morning as a minimal hurricane, although it may be transitioning to a weaker extratropical weather system by then.
"By Tuesday, the remnants of Gonzalo could bring strong winds and rain to Ireland and the UK, especially northern and western parts."
Alison Cobb, a tropical storm researcher at the University of Reading, said:
"While the North Atlantic season has been reasonably quiet so far this year with fewer storms than average, five out of seven of the storms have reached hurricane strength.
"Last year, by this time there had already been 11 tropical cyclones, of which only two reached hurricane strength.
"Bermudans are having a bit of a battering this week. Gonzalo comes hot on the heels of Hurricane Fay, which passed close to the islands just a few days ago. Bermuda is pretty used to tropical cyclones, but experiencing two so close within a week is relatively rare."
(Picture from NOAA)