University of Reading's new Bridges Hall officially opens
Release Date 21 October 2014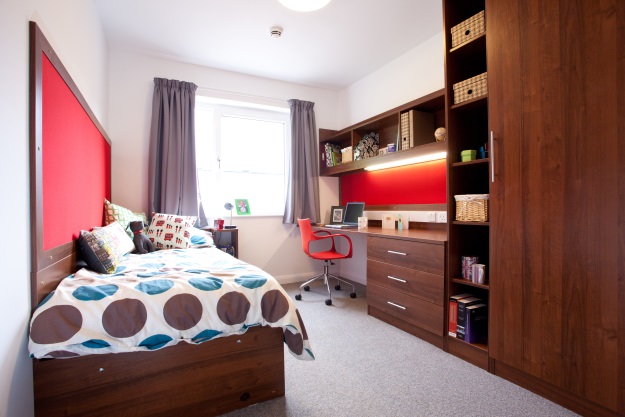 The University of Reading's newest student hall of residence officially opens today (21 October), marking the final stage in a £276 million investment in Reading's student accommodation.
An opening ceremony for the new £46 million Bridges Hall takes place today, with speeches from the University's Vice-Chancellor, Sir David Bell, and Sean O'Shea, chief executive officer for UPP, which manages and maintains all of the University's halls of residence.
Bridges Hall opened its doors to 649 students this September. The redevelopment project saw the replacement of the previous hall of residence and the creation of a new Junior Common Room social space, warden's flat, launderette and hall offices.
Students benefit from a range of different accommodation types to suit all budgets, with many of the smartly-furnished modern rooms organised into 10-person flats, with shared kitchen and bathroom facilities. A smaller number of premium en-suite rooms are also available.
In line with the University's and UPP's dedication to sustainability the redevelopment has been modelled to include a number of environmentally sustainable features, including roof top solar panels, energy efficient boiler and water heaters, energy metering facilities and heat recovery ventilation system. As a result the hall has achieved a BREEAM 'Excellent' standard.
The completion of Bridges Hall is the final stage of the University's Residential Master Plan, which has increased the number of available rooms through the long-term partnership between UPP and the University of Reading to 4,950.
Building contractor Brookfield Multiplex finished the hall ahead of schedule and in time for the start of the 2014/15 academic year.
Sir David Bell, Vice-Chancellor of the University of Reading, said: "It is wonderful to see students already enjoying the facilities of the new Bridges Hall.
"One of the key aims of our partnership with UPP was to improve our students' quality of life, by providing modern, affordable accommodation at the heart of our Whiteknights campus. This successful relationship is helping us to attract the brightest and best students to Reading.
"Our partnership has also allowed the University to invest more funds in our core mission of continuing to carry out world-leading teaching and research."
Sean O'Shea, CEO of UPP, said: "We are delighted to have delivered this fantastic new residence for the University and its students and it clearly demonstrates the value of this long-term partnership. The completion of Bridges Hall marks the end of this current redevelopment project at the University of Reading, however our work to ensure all halls of residence across the campus are managed and maintained to the highest possible standard continues."
Charlie Holman, from Reading University Students' Union (RUSU), said: "An integral and defining aspect of the University of Reading is to have so many halls located on our green and spacious Whiteknights campus. It creates a close knit and friendly campus community within a diverse student environment and also means that students only have to walk for five minutes to be at their lectures in the morning. It's excellent to see that as the University is expanding this aspect is being preserved."