Comment: UK climate negotiations plan welcome, but developing world needs hard cash, not warm words
Release Date 09 September 2014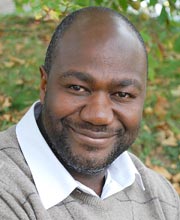 Dr Chukwumerije Okereke, University of Reading, comments on the UK government's announcement on its intentions for climate negotiations in Paris 2015.
Dr Okereke is a specialist on the governance of climate adaptation and low carbon development in Africa, and an author for the IPCC third working group report earlier this year.
Dr Chukwumerije Okereke, University of Reading, said:
"A positive message from the UK government is welcome. We know that the public, politicians and business groups tend to 'switch off' to messages of doom and gloom, which was one of the early mistakes of climate activists, and it is a good thing to emphasise how climate action can go hand in hand with growth.
"But presenting only a 'win-win' message has its downsides. It can become an excuse for avoiding hard choices, or promoting tokenistic schemes over substantive ones.
Worse, it can give the impression that difficult decisions can be avoided altogether. No matter what people say, taking climate action will involve some sacrifices and a fundamental shift in current patterns of consumption. We can neither invent or buy ourselves out of climate chaos.
"Developing countries are not generally opposed to strong climate action. In fact they have been at the forefront of the campaign for stronger climate action. The small island states, which have the most to lose from rising sea levels, have been calling for tougher emissions cuts, to keep global temperature increases below 1.5 degrees, rather than the current plan to limit the rise to 2 degrees. Many African countries, such as Rwanda and Ethiopia, have strong climate policies.
"But many people in developing nations are irritated when they see leaders of developed countries, which are historically responsible for climate change and have done so little to tackle it, sometimes speak as if they have the right to lecture the world, or claim to be leaders in strong climate policy. This really is nothing but cheap posturing.
"Developing countries want as strong climate action as the most ambitious and progressive developed countries. What Paris really needs to succeed is for developed countries, which have polluted the most in the past and built up their wealth on dirty technologies, to take the lead in their commitments to cut emissions. If developed countries want poorer nations to follow suit, they will have to pay for it, by offering finance, sharing green technology and helping to build up critical skills and infrastructure. Sadly, the evidence from the last 20 years of climate diplomacy would suggest that this is still unlikely to happen.
"The UK has been much better than many other developed countries in taking action and supporting low carbon development in poorer countries. However much more needs to be done. Without adequate financial support, it would be unjust to burden poorer countries with stringent emissions targets, and would mean negotiations are more likely to fail."