The cutting edge of learning about heart health
Release Date 10 September 2014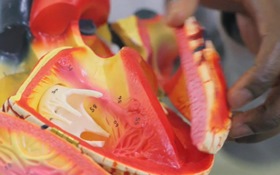 Reading is showing its position at as a leader in innovative education and at the forefront of the fight against Britain's biggest killer illness, cardiovascular disease, with the launch of an innovative free online course this week.
The University of Reading's latest free online course, Heart health: a beginner's guide to cardiovascular disease, a four-week programme aimed at the general public and run by the University through the FutureLearn platform, is beginning for thousands of people around the world.
As well as providing informative online videos, discussions and background material, the course is particularly innovative in encouraging learners to carry out hands-on practical experiments at home to help them understand the workings of the heart.
This will include full instructions and guidance on how to dissect a lamb's heart, which is easily and readily available from many supermarkets and butchers' shops, as well as investigating the effects of blood clots and heart failure. Course organisers hope this new, free online course will help learners of all ages who wish to find out more about the workings of the heart.
Professor Jon Gibbins, director of Reading's Institute for Cardiovascular and Metabolic Research (ICMR), said: "Giving people hands-on experience of science, allowing them to make their own discoveries and see for themselves how things work, is the best way to teach them and inspire them to find out more.
"That's how we teach our undergraduates at Reading, and we're now extending the principle to learners on our new online course. We can only tackle heart disease if scientists and the public work together, to learn what's going on and help find a cure for when things go wrong.
Professor Gibbins added: "It is a great pity that hands-on practical experience that allows understanding of how organs and tissues in the body work less readily available to school children these days. While I understand the sensitivities, it is precisely this sort of experience while at secondary school that opened up my eyes to the complexity and wonder of biology, and encouraged me to pursue a career in science.
"I hope that our new course may inspire more people to study biological sciences further. Who knows, some of them may even go on to become the scientists who make the medical breakthroughs of the future."