Rise in global league table shows Reading means business
Release Date 16 September 2014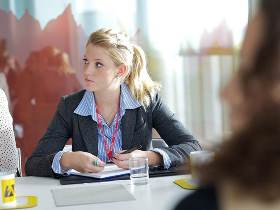 The University of Reading's excellent reputation with employers has helped to boost its position in the QS World University Rankings, consolidating its position as one of the world's leading universities.
The rise in Reading's performance is largely due to the University's growing reputation with major employers. Reading rose from 252 to 174 in this category worldwide, and from 31 to 25 among UK universities.
Reading is ranked 202 in the global rankings, up from 213 in 2013, and is listed among the UK's top 30 institutions, up one place from last year.
The global league table of universities, published today (Tuesday 16 September), is one of several independent measures of international university reputation. The QS rankings judge institutions on their academic reputation, global outlook, and research strength, among other criteria.
Vice-Chancellor Sir David Bell said: "The University of Reading has been a truly international institution for more than 100 years. I am proud to see the world-class work of our staff and students reflected in this latest global league table.
I am particularly pleased that our reputation among employers continues to grow. We are committed to producing graduates who are well equipped not just for their future careers, but for their whole lives. In a world with many challenges, I am convinced that universities and businesses have more to offer by working in partnership."
In individual subject areas, Reading's reputation for arts and humanities continues to flourish, rising to 136 in the world, and 22 in the UK. The University also continues to be ranked highly across the categories of natural sciences, life sciences, social sciences and management, and engineering and IT.