Rise for Reading in Times League Table
Release Date 23 September 2014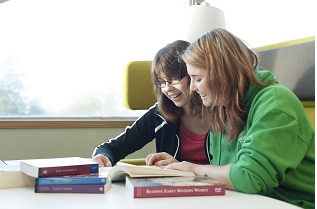 The University of Reading strengthened its national ranking in the Times and Sunday Times Good University Guide League Table 2015, rising to 33rd place from the 2014 ranking of 35th.
Highlights from the guide are that:
student satisfaction continues to increase, with 83.7% satisfied from their courses, according to the National Student Survey (up from 82.3% last year)
graduate prospects are further improved, with 71.8% of leavers in graduate jobs six months after they left the University (up from 69.2% last year)
facilities spend per student leapt by 7% to £1,594, far in excess of inflation.

Eight of the University's subjects were ranked in the top 10 nationwide in their field, with both Agriculture & Forestry and Land & Property Management ranking 2nd.
Building ranked 3rd, with Town Planning 4th; Food Science, 6th; Animal Science, 6th; Archaeology, 8th; and Art & Design, 9th.
Sir David Bell, Vice-Chancellor of the University of Reading, commented:
"League tables have their critics but they are a fact of life. Of course, it is good to have improved our position and I thank everyone across the University for their hard work.
"This month, we are welcoming many more students to the University, demonstrating our continuing attractiveness. But students have more choice than ever before and we have to do all that we can to maintain and enhance our position."
The increase in Times and Sunday Times national rankings follows on from recent global and national rises in the QS World University Rankings.
The University of Reading's Open Days have been so popular that registration has now closed for the next one, to be held this Saturday.
The next available Open Day is on Saturday 25 October, and additional fortnightly Campus Tours are being arranged to help prospective students get a feel for the University. For more information, visit www.reading.ac.uk/opendays, email opendays@reading.ac.uk or call 0118 378 6586.