Unseen Samuel Beckett treasures on display at Uni museum
Release Date 28 September 2014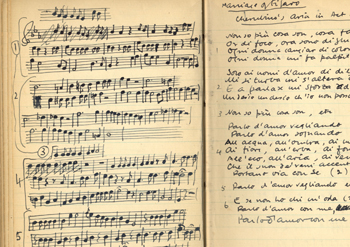 Never before seen treasures from the University of Reading's celebrated Beckett Collection will be on display at the Museum of English Rural Life (MERL) this week.
Visitors to MERL can view the exhibition: Samuel Beckett in London - the Murphy Notebooks. Running from Wednesday 1 - Saturday 4 October, the display showcases fascinating items from a key period in the famous author's life.
For the first time the public can see Beckett's Whoroscope Notebook. The item is a vital collection of quotations and ideas that Beckett kept for almost the whole decade of the 1930s, carrying it with him in his travels through Ireland, England, France and Germany.
Also on display will be Beckett's working manuscript of his first published novel, Murphy, which the University bought for £962,500 at Sotheby's last year. The manuscript includes text that is substantially different from the final printed edition in 1938. With its revisions, different colour inks, dated pages and doodles, it is an extraordinarily rich manifestation of Beckett's writing practices.
The Exhibition forms part of Beckett Week, a celebration of the University's internationally renowned collection of manuscripts from the Nobel Prize-winning writer. On Thursday 2 October the public can get even closer to the Collection by taking part in a free two-hour Beckett Archive Workshop. On Friday 3 October Dan Gunn, Professor of Comparative Literature and English at the American University of Paris, will present the public lecture 'Samuel Beckett through his letters'.
Dr Conor Carville, Associate Professor in English from the University of Reading, said: "Beckett Week offers the public a chance to get closer to Samuel Beckett's genius than ever before. Although we often associate Beckett with Paris or Dublin, the time he spent in London as a young man was decisive in his emergence as a major writer. Beckett moved to London in early 1934, aged 28, in order to undergo psychotherapy. He spent two rather lonely years in the city, drifting on the margins of the capital's literary society.
"Away from the familiar networks of friends in Dublin and Paris he was forced, as never before, back on his own resources. He walked for miles through the city, spending long hours in galleries and the British Library. Eventually he poured all this reading, looking and thinking into his first great novel Murphy. This fierce and funny novel is a detailed depiction of London at a crucial moment in its history.
"Our Murphy manuscript provides unparalleled opportunities to learn more about one of the greatest writers in living memory, if not all time. We are now delighted to now be able to make the manuscript available for scholars and students across the world to study
The University of Reading's Beckett Collection is the world's largest collection of resources relating to Samuel Beckett. The Archive includes over 600 items of original Beckett material.
A full list of activities taking place during Beckett Week can be found on the University of Reading's Beckett website.
ENDS
Notes to Editors
Picture is a typically meticulous transcription of an aria from Mozart. Courtesy of the Beckett International Foundation, University of Reading; (c) The Estate of Samuel Beckett