Reading academic recognised as 'rising star' by British Academy
Release Date 10 April 2015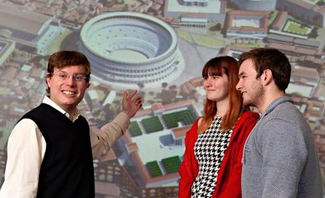 The University of Reading is delighted to announce that Dr Matthew Nicholls of the Department of Classics has been awarded a British Academy 'Rising Star' Engagement Award (BARSEA).
The award recognises Dr Nicholls' work in bringing his research into the Roman world to life through digital visualisation. It will support Dr Nicholls in his new project which aims to enhance collaboration between academics working in this field, sharing expertise and insight. The project should help humanities researchers to bring innovative digital approaches and techniques to their work, with knock-on benefits to their teaching.
Last year Dr Nicholls completed a large digital model of ancient Rome for use in research and teaching. He then developed a module for undergraduates to learn how to research and create their own digital reconstructions of Silchester Roman Town. This work led to Dr Nicholls being awarded a Guardian Higher Education Award for Teaching Excellence last year.
A BARSEA is awarded by the renowned British Academy, the UK's expert body that supports and speaks for the humanities and social sciences. The scheme is intended to allow humanities researchers at a relatively early stage of their careers to engage with the work of the Academy.
Dr Nicholls said: "I am thrilled with this award. Digital visualisation is a relatively new but exciting field for academics and researchers. There are several schemes taking place around the UK and further afield, but there is scope for more dialogue between those involved.
"Closer collaboration will generate innovative ideas for future projects, allow academics to learn from commercial digital studios and support training and mentor events. As well as running my own project, I look forward to working with my very distinguished fellow award-winners."
Professor Annalisa Marzano, Head of the Department of Classics, commented: "I am delighted that Matthew's excellent work in the field of digital visualisation has been recognised by the British Academy with this award. The project he will lead will not only facilitate knowledge exchange among different stake holders, but it will also help to establish best practices. On behalf of the whole Department, I warmly congratulate Matthew on his success."