Nine out of ten students satisfied with University
Release Date 12 August 2015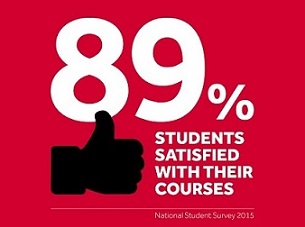 Almost 90% of students are satisfied with the University of Reading and its students' union was ranked 10th in the UK, according to the independent National Student Survey 2015 (NSS) published today.
The overall satisfaction level of 89% is above the sector average of 86%. It means the University continues to consolidate its position inside the top quarter of institutions nationally.
Reading University Students' Union (RUSU) has 85% overall satisfaction - the same as last year and is well above the sector average of 69%. It sees RUSU placed 10th nationally.
The University found that 92% of students would recommend the University of Reading to others.
Other highlights include satisfaction remaining above the national average for teaching; organisation and management, learning resources and personal development.
The NSS is an important measure of student satisfaction. It is carried out annually by Ipsos MORI; contributes to other independent league tables; and has built a broader picture of the quality of higher education since it started in 2005.
This year's survey was completed by 1,932 final-year Reading students. The response rate was 75%, up one percentage point since last year and above the sector average at 71%.
The key findings include:
89% overall satisfaction for the University - the same as last year.
85% satisfaction with the students' union achieved - above the sector at 69%, and resulting in Reading being ranked in 10th position out of 157 higher education institutions.
92% of students would recommend the University of Reading to others.
The University is above the sector average for overall satisfaction for teaching (89% compared to 87%). 91% of students say staff are good at explaining their subject and 85% that they make their subject interesting; 89% say that staff are that enthusiastic about what they are teaching; and 89% that the course is intellectually stimulating.
Students have 82% overall satisfaction with academic support (in line with the sector average); course organisation and management (82% vs 79%); and personal development (84% vs 83%).
Overall satisfaction for learning resources has risen three percentage points to 88% and now ranks above the sector average of 87%.
The University library resources and services see a four percentage point rise in overall satisfaction year-on-year to 91% overall, and are now ranked 24th nationally.
Overall satisfaction for feedback and assessment has risen a further one percentage point year-on-year - to 71%. It has risen five percentage points since 2012.
20 courses achieved 95%+ overall satisfaction - Accounting and Management with a Placement Year (100%); Agriculture (100%); Ancient History (100%); Chemistry with a Year in Industry (100%); Consumer Behaviour and Marketing with Industrial Training (100%); Educational Studies (Primary) with Art (100%); English Literature (100%); English Literature with Creative Writing (pathway) (100%); Environmental Science with Professional Experience (100%); Food Science with Industrial Training (100%); French and Italian (100%); Geography (Physical) (100%); Politics and Economics (100%); War, Peace and International Relations (100%); Educational Studies (Primary) with English (98%); Film & Theatre (97%); Finance and Investment Banking (97%); Pharmacy (96%); Speech and Language Therapy (96%); Chemistry (95%).
14 Joint Academic Coding System (JACS) subjects (up from 12 last year) are in their respective top 25% nationally for overall satisfaction - Accounting; Aural and Oral Science; Chemistry; Cinematics & Photography; Drama; English Studies; Finance; German & Scandinavian Studies; Imaginative Writing; Italian Studies; Initial Teacher Training; Marketing; Pharmacology & Toxicology; and Politics.
Vice-Chancellor Sir David Bell said: "Students are right to expect outstanding teaching, services and facilities. This NSS was a big test for the sector - the first survey of students being charged £9,000 a year tuition fees. It is a cohort of students that has higher expectations than ever before.
"It is good news that we have retained our highly positive results for satisfaction and teaching quality. There have been big year-on-year fluctuations across the sector so consolidating our position is a solid achievement. Overall satisfaction with learning resources is up yet again, with our ratings for the library rising sharply by 15 percentage points in three years - thanks to the £4.4m refurbishment, extending opening hours to 24/7 in term-time and the hard work of staff.
"We can never be complacent however - we must listen carefully and act on students' concerns. There have been some excellent department-level results - with rises in 18 out of 34 overall - but we should be aiming for rises across the board.
"We will be looking carefully at why overall satisfaction with the management and organisation for courses has dipped this year, although is still well above the sector average.
"It is good our results for feedback and assessment have risen but we are still below the sector average overall. The 15-day turnaround limit on the return of work to students has now been in place for 12 months and is a minimum expectation of support that all students should expect from the University. I am confident that our results will rise again as this policy becomes part and parcel of academic life."
RUSU President, Oli Ratcliffe, said: "I want to thank RUSU's members for putting us in the Top 10 students' unions in the UK once again. We are run by and for students and we're here to represent them, support them, and make their time studying at the University of Reading the best it can be.
"An 85% satisfaction rate means we are doing well but in the coming year we will continue to be a strong voice for students and encourage even more of them to participate in their union. I'm also looking forward to welcoming new students as members of RUSU; by getting involved students can push RUSU and The University of Reading to even greater success."
---
An additional question asked by the University of Reading
Notes to editors:
Based on detailed analysis of the NSS data, the University of Reading ranks 37th for overall satisfaction out of 157 higher education institutions.