New dig to tell Silchester's Iron Age story begins
Release Date 19 August 2015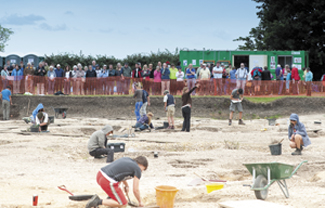 A new University of Reading project to uncover the origins of one of the most important Roman sites in Britain has begun this week.
The £1m grant aims to shed light on whether the settlement of Calleva Atrebatum (Silchester Roman Town) grew rapidly from a growing local population or through French immigrants in 1st century BC.
Funded by the Calleva Foundation, the team will use a range of survey methods and small scale excavations to explore Iron Age settlements across some 100 square kilometres of the landscape around Calleva.
The University of Reading's 18 year excavation, The Silchester Roman Town Life Project in Insula IX, came to a close last summer. Fascinating finds during the dig have provided a unique insight into life during early Roman Britain. However during the 2008 season the team made the exciting discovery of the first evidence of an Iron Age town in Britain. The subsequent five seasons up considerably expanded our knowledge of this Iron Age settlement.
A succession of great Iron Age halls begun to emerge during these final seasons, including a giant building 50m long - the biggest example of an Iron Age house ever found in Britain. The only buildings similar to these have been found in northern France, Belgium and the Netherlands.
Professor Michael Fulford, from the University of Reading's Department of Archaeology, said: "I am thrilled to begin this exciting project. Our excavation of Silchester Roman Town has provided an unparalleled picture of Britain during its early Roman occupation. Exploring Iron Age Calleva however has been tantalisingly out of reach - until now.
"In this first year we are excavating two sites - continuing our work in Insula III inside the Roman Town walls, and Pond Farm, a presumed Iron Age hillfort about 1 km north-west of the town. This may lead to evidence that the Iron Age town was a natural development, a nucleation emerging out of the prehistoric settlement of the north Hampshire and West Berkshire countryside, rather than a planned colony of Atrebates, a Gallic tribe from northern France, led by their famous leader, Commius.
"The story of Roman Silchester may have ended, for now, - but the tale of Iron Age Calleva is just beginning."
During the five-year project Prof Fulford and his team will also be researching and publishing the finds from the Silchester Town Life Project.
The public can visit the sites between Monday and Friday up until 11 September - please use Sat Nav RG7 2HP. An exciting Open Day for all the family is taking place on Sunday 13th September. More information here