Experience a University of Reading Malaysia Open Day - 22 and 23 August
Release Date 21 August 2015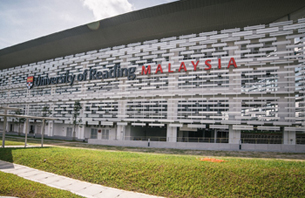 This Saturday and Sunday, University of Reading Malaysia will be hosting its first ever open days at its outstanding new campus in Educity, Iskandar.
More than 500 visitors from across Malaysia are expected to the campus, which will open its doors to students this September. They will discover the range of high-quality courses on offer at Reading, one of the top 1% of universities in the world, and get the chance to meet with academics and students.
An open day is the perfect chance for visitors to experience the campus first-hand and see what facilities are on offer, including the Student Village and the EduCity Sports Complex.
Courses are available in a range of professional subject areas. There are foundation, undergraduate and postgraduate degrees in business and finance, quantity surveying, real estate, and psychology, plus English language teaching, and the prestigious Henley Business School MBA. Details of which courses will be on showcase at the open days can be found here.
The opening of the campus this September is the most significant milestone yet in the development of the University of Reading Malaysia - an institution designed to bring the best elements of a UK university education to the heart of south-east Asia.
Overseeing all the developments is the University's Provost, Professor Tony Downes. He believes the new Malaysian university will offer its students a unique higher education experience.
"The University of Reading has been successfully educating international students for more than a century," he said. "Malaysian graduates of Reading are already leading businesses and professions, all over the world - not least here in Malaysia.
"Now students will be able to have the best of both worlds - the chance to study for a UK degree, taught by top academics, but right here in the heart of Malaysia."
Students at the Malaysia campus will also have the chance to study in Europe. Every student is guaranteed the opportunity to spend up to a year studying at the University's main campus in Reading, just outside London. This makes getting a UK degree with UK study experience more flexible, accessible and affordable than ever before.
To see our latest video of the University of Reading Malaysia campus, please click here.
Open Day visitors
Book your place (if you haven't already)
Social media
The open day team will be capturing and sharing activities from the day on social media, and would love to hear from you too:
Twitter - @UniofReading #UoRMOpenDay