University honours former student who foiled train terror attack
Release Date 11 December 2015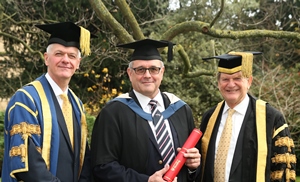 The University of Reading has awarded a Distinguished Fellowship to former student Chris Norman, for his bravery in foiling a suspected terror attack on a train in France four months ago.
The Distinguished Fellowship was presented at the University's annual winter graduation ceremony at its London Road campus - 37 years after Ugandan-born Mr Norman, now a management consultant, graduated with an MSc in Regional and Urban Planning Studies in 1978.
Mr Norman and three American passengers helped overpower and then subdue an attacker armed with an AK47 assault rifle, on a train travelling from Amsterdam to Paris and carrying more than 500 passengers on 21 August this year.
Grandfather Mr Norman, 62, helped tackle the suspected terrorist to the ground, held down his left hand, before tying the attacker's hands behind his back and holding him until security forces arrived.
Police later said the attacker, 25-year-old Ayoub El Khazzani, was armed with 270 rounds of ammunition and also had bottle of petrol.
At today's ceremony University of Reading Vice-Chancellor Sir David Bell told hundreds of graduates and guests that Mr Norman was "an exceptional man".
Sir David said: "The word 'hero' is sometimes used loosely but in his case it is utterly justified. His immense bravery should be, and is, a great source of pride for all those that know him. As his university, we are proud to count ourselves in that group, humbled though we are in the face of such heroism."
After receiving the award Mr Norman said: "I'm very honoured by the University having given me the award, and I was quite moved by the ceremony... (there was a) huge amount of applause. It was good to be back at the University and good to be back in the environment.
"I'm just another guy like anybody else. To be honest if I was in the same situation again right now I don't know whether I would act in the same way. What I am pleased about to a certain extent is perhaps our example can give people hope and make you think, OK, if you see a terrorist, maybe we all need to act."
Mr Norman, who is British but grew up in southern Africa, is an entrepreneur and business consultant and lives in Nimes, France. His actions also led French President Francois Hollande to appoint him a Knight of the Legion of Honour (Chevalier Legion d'Honneur), France's highest civilian award, earlier this year.