Thames Valley Science Park first phase plans go on display
Release Date 05 February 2015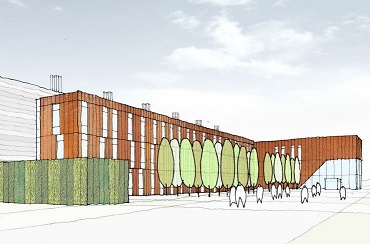 The University of Reading is progressing proposals for the new Thames Valley Science Park, which is to be located to the south of the M4 in Shinfield.
The proposals received outline planning permission in May 2010, setting out the principle of a science park with access from the new Eastern Relief Road, which started construction this year.
The Thames Valley Science Park will be a springboard for emerging technology businesses, brought together in a campus-style setting to encourage interaction and foster positive relationships. The park will eventually provide 800,000 square foot of flexible laboratory and office space within a pedestrianised central area with shared facilities. This sets it apart from traditional office developments designed for larger companies, which are more self-contained.
A reserved matters application is currently being prepared to bring forward the first phase of the Thames Valley Science Park, delivering a 'gateway' building at the entrance to the park. The University of Reading will be funding this first phase through a direct £25 million investment, bringing high quality jobs and local employment opportunities alongside increasing the status of the area as a place for innovation and technology.
This first building is aimed at attracting innovative small and medium-sized technology based companies that are researching and delivering cutting-edge new products. The buildings have been specifically designed to enlarge and adapt with them, attracting businesses working in areas from new medical devices to the space industry.
Further buildings and facilities will come forward as and when required. The Thames Valley Science Park, once completed, will have the potential to employ up to 5,000 people.
The project team is holding an open evening for residents to view the proposals for the new Thames Valley Science Park. The event is from 3pm - 8pm on Thursday 5th February (today) at Shinfield Grange, Cutbush Lane, Shinfield, West Berkshire RG2 9AF.
Sir David Bell, Vice-Chancellor of The University of Reading said: "We are very excited with the progress on the proposals for the new Thames Valley Science Park. The University of Reading's commitment to invest in a new business facility of this scale underlines the vital contribution this University makes to the region's position as one of the most successful economic sub-regions in Europe.
"There is a substantial market in the area for such a facility, with no dedicated science park currently operating in the Thames Valley or London. We expect strong demand from both UK and international companies seeking a prominent location west of the capital. The Science Park will also be the natural choice for London-based companies that are looking for space to expand, as well as emerging small businesses in the Thames Valley."
More information about the Thames Valley Science Park is available on the website www.thamesvalleysciencepark.com or by calling 0800 148 8911.