Expert comment: Advice to cut fat in diet was right
Release Date 11 February 2015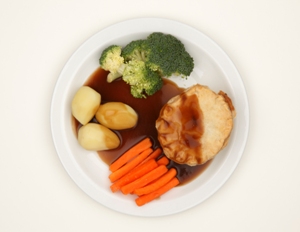 Professor Christine Williams, professor of human nutrition in the School of Agirculture, Policy and Development, has commented on research suggesting that UK and US dietary guidelines on dietary fat introduced in the 1970s and 80s were not based on evidence.
Her comments were reported widely in the media, including in the Guardian, BBC News, and the Reuters news agency. Colleagues in the Department of Food & Nutritional Sciences were also interviewed by Sky News.
She has also written an in-depth comment for the New Scientist, part of which is reproduced below (with permission). The full article is available here
Official diet advice on fat stands, despite new study
Yet again questions are being asked about the long-standing advice to avoid diets rich in fat, especially saturated fats.
The latest doubts have been prompted by a study that says randomised controlled trials (RCTs) available when dietary guidance on fat was introduced - in 1977 in the US and 1983 in the UK - did not support that guidance (Open Heart, DOI: 10.1136/openhrt-2014-000196).
Both nations urged people to eat less fat, especially the saturated kind, pointing to its potential to raise a type of cholesterol in blood that can lead to coronary heart disease. This official advice is still in place. Rightly so.
The problem is, the authors of the latest study have taken a classical pharmaceutical approach, with the assumption that RCTs provide the gold standard for dietary studies as they do in clinical drug trials. They don't. In fact such an approach would be inappropriate for most population-based recommendations.
Part of the picture
Most dietary guidelines have been developed using the degree of consistency of a number of lines of evidence as the best way to assess risk. RCTs are part of that, but only a part.
The problem is that drug trials usually involve patient groups likely to benefit from the tested drug. In contrast, dietary guidelines aim to prevent disease in a healthy population.
The results from dietary RCTs involving people with disease may not apply to healthy people. And to do RCTs on healthy people requires many more volunteers studied over very long periods - usually many years. Sticking to strict diets is challenging, especially when they involve changes in many common foods and drop-out rates can be very high. So cost, commitment of volunteers, feasibility and uncertainty about the reliability of the findings are all major challenges.
Despite this, when the dietary fat guidelines were introduced in the UK and US, consistent evidence for the cholesterol raising effects of saturated fats was available from animal studies, comparisons of health outcomes between countries with differing diets, and long-term observational studies of large numbers of people.