Million-pound investment makes University science greener
Release Date 12 February 2015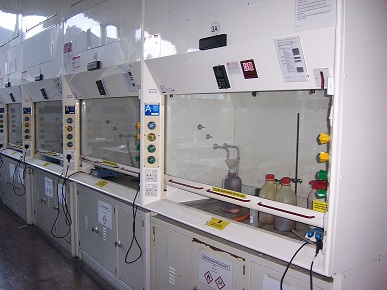 The University of Reading has announced a £1 million upgrade to its science labs to improve energy efficiency and cut the environmental impact of its world-class scientific teaching and research.
The investment will help the University cut its carbon emissions by more than 750 tonnes of carbon dioxide every year - enough to fill more than 150 Olympic-sized swimming pools.
The improvement will be another major step towards the University reaching it pledge to cut its carbon emissions by 35% by July 2016. The cash comes via a £500,000 grant from the Higher Education Funding Council for England (Hefce), match-funded directly from the University.
The money will be spent on a programme of energy efficiency upgrades to science lab fume cupboards across the University. This builds on an award-winning pilot project in 2014 to upgrade fume cupboard ventilation in Chemistry labs, which saved £90,000 in its first year alone.
The University expects the improvements to cut its annual energy bill by up to £260,000.
Reading's carbon reduction target aims to cut emissions by 35% compared to the 2008/09 year. So far, emissions have already been cut by 23%, saving the University £7.4 million in energy costs.
The funding forms part of the Revolving Green Fund 4, an initiative from Hefce which provides interest-free loans to help higher education institutions in England reduce carbon emissions and save money. Funds given through this initiative are repayable in subsequent years from the energy savings achieved.
Sir David Bell, Vice-Chancellor of the University of Reading, said: "The University of Reading has been at the forefront of research into sustainability and the environment for many decades. We are committed to managing our campuses through sustainable means and minimising our impact on the environment. We have set ourselves ambitious goals to cut carbon emissions and this money will go a long way to helping us achieve our targets."
The University is celebrating 'Green Week' on campus this week, with a range of talks, workshops and competitions to raise awareness of the University's green policies and encourage staff and students to play a key role in achieving its targets.
The University's Energy & Water Policy provides more information on the University's commitment to continually reduce its energy and water consumption and carbon emissions.
In addition to reducing carbon emissions and energy usage, plans are also well underway to reduce water consumption, increase recycling rates year on year and reduce waste going to landfill. The University also continues to increase sustainable travel options and explore new ways of encouraging staff and students to leave their cars at home.