University of Reading to train new wave of medical professionals
Release Date 19 January 2015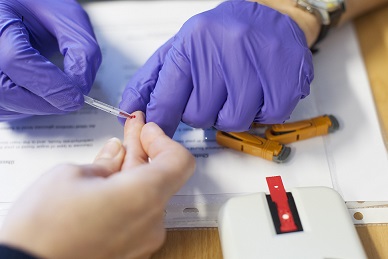 The University of Reading is to train a new generation of medical professionals to help deliver stronger and more cost effective patient care across the UK.
The Postgraduate Diploma Physician Associate programme, which fast-tracks top science graduates into healthcare professions, is designed to help the NHS meet the demands of the UK's growing population. Physician Associates (PA) undertake two years of intensive training before they begin working alongside doctors in a wide variety of workplaces (including GP practices, community health services and all types of hospital care). PAs support doctors in the diagnosis and management of patients and are trained to perform a number of roles including:
taking medical histories
performing examinations
diagnosing illnesses
analysing test results
developing management plans
The programme is the first of its kind in the Thames Valley and has been developed in partnership with both the Royal Berkshire Hospital and Berkshire Healthcare, along with the collaboration of local clinical commissioning groups. Both NHS Trusts will be providing clinical academic input into the course as well as a range of placements.
There is strong predicted growth of the Physician Associate role across the NHS, where there is a well-known resource gap in health professionals generally and the emerging PA role in particular; in 2013 for example, 136 PA vacancies were advertised but only 25 filled.
Professor Richard Ellis, Dean of Life Sciences at the University of Reading, said: "We are very excited to be opening the new postgraduate Physician Associate programme for first entry this September. With the NHS treating record numbers, there is growing demand for patient care and, as a result, doctors' workloads are increasing. PAs contribute to health service teams and, as such, are growing in importance across the NHS.
"We are delighted to be working with the Royal Berkshire Hospital and Berkshire Healthcare, who recognise the increasing demand for PAs and their role in delivering vital patient care."
The two-year full time postgraduate programme of academic study, skills development, and placement-based training will involve considerable interaction with patients from early on and support from a wide range of healthcare professionals. The first cohort in September 2015 will be limited to a maximum of 20 students, with a further expansion of places planned over the next few years.
Prospective students can find out more about the new programme and the vital role of PAs at an open evening at the University on Wednesday 4th February, the first of a series before the course starts.
Justin Wilson, Medical Director, Berkshire Healthcare NHS Foundation Trust said: "Physician Associates can help resolve some of the workforce challenges within the health service in acute trusts, community services, mental health and primary care. This important initiative with the University of Reading will ultimately lead to higher quality, cost effective care for patients."
The first open evening for this new programme will be held at the University of Reading's Whiteknights Campus on Wednesday 4th February 2015. To register, or to learn more, please e-mail: cippet@reading.ac.uk.
To apply for a place, please complete the online form, selecting the programme PGDip Physician Associate Programme (level 7) (full-time) from the list of programme choices.