University students offer free health advice to local community
Release Date 21 January 2015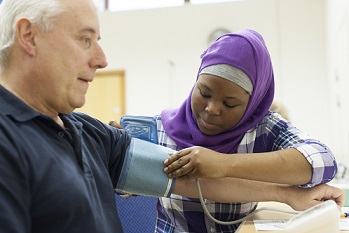 Members of the local community have been receiving free post-festive check-ups and advice from trainee pharmacists at the University of Reading.
Fourth year students from the Reading School of Pharmacy took part in two initiatives, a new mobile health clinic and also running a health fair in the Broad Street Mall.
Healthy Living Assessment and Advice
The mobile Healthy Living Assessment and Advice (HLAA) service launched on 14th January at the Earley CResCent Resource Centre. It is designed to help inspire change and healthy living in the post-Christmas / New Year period. Eight students tested 44 participants' blood pressure, glucose and cholesterol levels, as well as weight and lifestyle assessments. The students also offered free personalised lifestyle advice on what changes the participants can make to improve their health now and in the future.
The service is funded by the Earley Charity and is run in partnership with Reading Borough Council's First Stop Health Bus operated by the Mustard Tree charity. The University worked closely with the Earley Charity to identify geographical areas that might benefit from free health advice.
There are three more HLAA sessions. People wishing to receive a free assessment can do so by appointment or on a drop-in basis on:
Dr Parastou Donyai, Director of Pharmacy Practice, Reading School of Pharmacy, said: "These simple but vital tests offer an important service to the community, potentially helping people to avoid serious health issues in the future. At the same time, they give students an opportunity to demonstrate the skills they have developed over the last three and a half years. There is a tendency for a little over-indulgence at Christmas so January is the perfect time to receive a quick health-check and some expert advice on how to enjoy a healthy 2015."
Councillor Liz Terry, Reading Borough Council's Lead Member for Neighbourhoods, added: "This is another excellent use of the First Stop Bus, not only does it help people at night in Reading Town Centre but it can also be used as a facility during the day to provide health assessments and advice. We are looking forward to working with the University and other partners to ensure the wider community benefits from the bus."
Health Fair
The students also ran a Health Fair in Reading's Broad Street Mall on 12th and 13th January 2015.
Students gave information and advice on a variety of health topics, including diabetes, asthma, prostate cancer and smoking cessation. All fourth year students participated over the two days, speaking to more than 50 people.
Professor Richard Ellis, Dean of Life Sciences at the University of Reading, said: "These activities have proved an immediate success with members of the local community and our fourth year Pharmacy students alike. It is a great opportunity for the students to engage with the community in realistic conditions and build their confidence before they enter the workforce, hopefully later this year. Initiatives such as these set our School of Pharmacy apart from other universities that are yet to develop public-engagement activities that provide mutually beneficial pharmacy-led health services.
"The Healthy Living Assessment and Advice service in particular has had great feedback and we hope to roll out this service more widely in future years. We have already been approached about the possibility of our staff and students offering formal NHS Health Checks. This complements Reading's new health strategy, which aims to establish the University as a centre of excellence for teaching and research related to health."