Reading researcher wins Max Planck Society award


Release Date 02 July 2015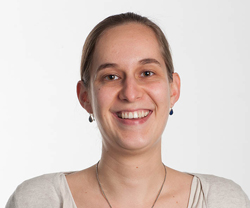 A University of Reading researcher has been awarded the prestigious Otto Hahn Medal from the Max Planck Society for her work which is helping to show how languages evolved over time.
Annemarie Verkerk is a comparative linguist who studies the history and diversity of the many languages spoken around the world. Her PhD thesis focused on chasing the history of particular linguistic features on the branches of existing language family trees.
In her thesis she investigated how people using twenty different but related Indo-European languages, such as English, French, and Hindi talk about motion. She found that these languages employ a range of different types of sentences to encode movement of a person or an object from one location to another location.
The differences in how often these types of sentences were used by each language were traced over time, giving researchers another tool in the quest to trace language evolution across the globe.
The Max Planck Society has honoured up to 30 young scientists and researchers each year with the Otto Hahn Medal for outstanding scientific achievements since 1978. The prize is intended to motivate especially gifted junior scientists and researchers to pursue a future university or research career. The Medal comes with an award of 7500 euros.
Annemarie, originally from the Netherlands, said: "I am delighted and proud to have received the Otto Hahn Medal. I am also immensely grateful for the support of both my former institute, the Max Planck Institute for Psycholinguistics in the Netherlands where I did my PhD research, as well as Mark Pagel's Evolution Research Group here in Reading.
"There are over 7000 languages spoken around the world. Linguistic typologists study this immense diversity by classifying languages in terms of their structural features. These may relate to their phonology; does the language have a small or a big set of vowels?, grammar; what is the word order?, and lexicon; does the language have a separate word for 'hand' and 'arm'?
"My research aims to explain the patterns that are found by typologists in terms of historical processes using methods developed by evolutionary biologists. For instance, by tracking down specific periods of contact between languages that have led to the adoption of a larger set of vowels, different word order, or borrowing of words. By doing this we can quantify the inner workings of language change, and shed light on why languages are the way they are within their historical context."
Lifting the lid on the origins of language
Annemarie is a member of leading evolutionary biologist Professor Mark Pagel's Evolution Research Group in the University of Reading's School of Biological Sciences. The group is lifting the lid on the origins of language and how languages evolved over time. Professor Pagel's previous research on the evolution of human languages has built up a fascinating picture of how our 7,000 living human languages have evolved.
The team has documented the shared patterns in the way we use language and discovered why some words succeed and others have become obsolete over time. The team has also demonstrated that Ice Age people living in Europe 15,000 years ago might have used forms of some common words that in some cases could still be recognised today.
Professor Pagel said: "Annemarie joined our team over two years ago while still finishing her PhD work. She has been a valuable and enjoyable colleague and we are delighted to see her win this prestigious award."
The Max Planck Society is Germany's most successful research organisation. It is named after Max Karl Ernst Ludwig Planck, a German theoretical physicist who won the Nobel Prize for Physics in 1918 for developing quantum theory. Since its establishment in 1948, no fewer than 18 Nobel laureates have emerged from the ranks of its scientists, putting it on a par with the best and most prestigious research institutions worldwide.