University schools programme marks 5000th volunteer
Release Date 02 July 2015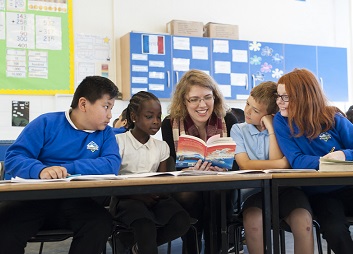 A Dutch student from the University of Reading has become the 5000th person to complete a volunteer scheme which has played a crucial role in supporting local schools for over 20 years.
The Students in Schools programme enables volunteers to work at local schools alongside teachers. The aim is to raise the aspirations of pupils in schools and encourage them to continue into higher education. Each year, more than 200 student volunteers visit over 40 local schools.
The 5000th volunteer to complete the scheme is Hanne Kouwenberg, a postgraduate student from the Netherlands who is studying for a Masters degree in Children's Literature. Hanne, who eventually wants to take up a career in teaching, helped out in two local schools during her year in Reading - Geoffrey Field Junior School in Whitley and Kendrick School.
Ms Kouwenberg said: "The Students in Schools scheme was a fantastic experience for me. It helped me build my confidence in a classroom environment as well as hone my communication skills.
"Having the opportunity to help in a secondary as well as a primary school was an invaluable experience for me and one that I will never forget. The schools were very welcoming and I think the children benefitted from the extra hands-on support."
Sarah MacWaters, textiles teacher at Kendrick School, said: "Hanne has been excellent - she has a great rapport with the students and has made textile lessons a pleasure to teach. I am very grateful for her help and support this year."
Judy MacDevitt, who co-ordinates the Students in Schools scheme, said: "To reach our 5000th student volunteer is a great achievement and a testament to how well the initiative serves local schools.
"We are confident that the scheme will continue to go from strength to strength and our students will continue supporting Reading's school children for another twenty years and beyond."
Student Community Awards
In a separate scheme, the University also recently recognised students for their outstanding volunteer work in the local community.
The Student Community Award (SCA) scheme highlights the efforts of the many University of Reading students who help others using their own initiative, perhaps by providing support in some way, making a contribution to the local community or showing acts of kindness or good neighbourliness. 17 students were nominated for an SCA this year, with three individuals taking home the top prize.
The winners
Emma Foster has just graduated with a degree in Law. Emma helped at Starting Point Reading, which aims to get young people into work or education. Emma supported a young man who had left school with no qualifications and had been diagnosed with Asperger's. Her work on developing his Maths and English skills helped him find employment. Emma also supported a young woman with autism. She provided stimulation and social interaction outside of the family, enabling this young woman's mother to take breaks from caring for her daughter.
Finally, Emma volunteered with The Alliance for Cohesion and Racial Equality in Reading.
James Mulligan recently graduated with a degree in Economics & Politics. James is the leader at the 3rd Woodley Cub Group where he organises activities for 7-12 yr olds, including camping trips and the annual swimming gala. James has also been involved in fundraising for cancer charity Sarcoma UK - he was one of 11 to shave his head following his friend being diagnosed with the disease last year. Over £13,000 was raised.
Josie Hollywood, a recent Psychology graduate, was nominated by Wendy Williams, Project Manager at Catsypp Reading. The organisation supports young people aged 8-16 diagnosed with Autism Spectrum Disorder (ASD), but who attend mainstream school.
Ms Williams said: "Over the last two years Josie has worked with and supported many of our members and she has consistently done so with patience, kindness and common sense. At my request she began to provide greater one-to-one support to one of our girls who was struggling with acute social anxiety and low self-esteem."
The mother of the student with ASD said that Josie has been pivotal in helping her daughter gain essential life skills such as paying in a shop, ordering in a restaurant and learning how to stay calm.
The winners were presented with certificates and cheques for £60 by Sir David Bell, Vice-Chancellor of the University of Reading, at a ceremony on Wednesday 3 June 2015 at Foxhill House on the University's Whiteknights campus.
Ann Westgarth, University of Reading Community Relations Manager said: "The University believes that volunteering is important, not only for those who benefit, but also for helping students gain valuable experience, as well as improving their self-confidence and employment prospects."
ENDS
Notes for editors:
The prize money for the Student Community Awards came from the generosity of University of Reading alumni, whose donations, made through the Annual Fund, support the project. The Fund aims to enhance the student experience through innovative teaching and learning, extra-curricular activities and financial support.
The Student Community Awards Committee is made up of University staff and representatives from the students' union and local community.