University granted permission to build staff homes on campus
Release Date 23 July 2015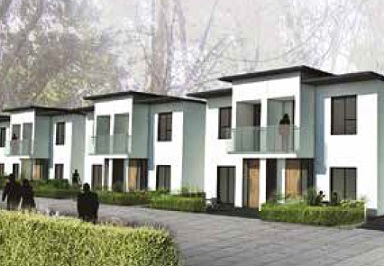 The University of Reading has been granted planning permission to build 10 homes for staff on land at Upper Redlands Road.
The existing industrial site that lies on the edge of Whiteknights campus, formerly known as the Barnet Works, will be demolished and replaced with a mixture of two and three bedroom houses. On-site parking will be provided, as well as bin stores, secure bicycle storage and rear gardens.
The new homes will be accessed from within Whiteknights campus. As part of the proposed development, the existing access to the industrial site from Upper Redlands Road will ultimately be closed, easing traffic congestion along an already busy residential road.
Christopher Reeve, Director of Estates Management for the University of Reading, said: "The University is pleased to receive permission from Reading Borough Council to re-develop the dilapidated industrial buildings.
"These houses will provide much needed accommodation for University staff. The University area of the town is highly sought after - having accommodation on campus helps us to attract and retain a high calibre of teaching staff, thereby maintaining our reputation for world-class teaching and research. It also supports our green travel plan to minimise traffic congestion in the area and reduce travel distances for staff."
The 10 houses will be designed to a high quality and will meet the Lifetime Homes Standards, a national standard designed to make homes more easily adaptable for lifetime use. This will ensure the University is able to offer suitable accommodation to meet the varying needs of staff and their families. The new homes will also meet the latest environmental standards.
The timing of the construction work is yet to be confirmed.
At the same Planning Committee, the University was also granted planning permission to convert three historic buildings on London Road, Reading into residential apartments. By the end of the project, these listed buildings will be restored to their former grandeur. Restoration work is scheduled to start in early 2016.