Skeleton of Bronze Age adolescent discovered near Stonehenge
Release Date 24 July 2015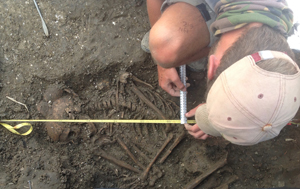 A rare skeleton of a Bronze Age child has been found by University of Reading archaeologists excavating Wilsford Henge in the Vale of Pewsey, Wiltshire.
Around 4000 years old, the skeleton is believed to be that of an adolescent child. The exciting discovery was made in the final week of the dig's first year and will give researchers a wonderful insight into the lives of the people who saw Stonehenge in full swing. Extensive research will reveal the gender and age of the child, where they were from, and priceless information on diet and disease in the Bronze Age.
The well-preserved remains were found near the bottom of a Neolithic henge in Wilsford. The body, roughly 1.5m in length, was placed in a foetal position with legs drawn up, arms crossed and head turned to the right, and was wearing an amber necklace.
Archaeologists began excavating Marden Henge and its little sister Wilsford Henge in the Vale of Pewsey in June. Situated between the iconic prehistoric monuments of Stonehenge and Avebury, the Vale is a barely explored archaeological region of huge international importance. The three-year dig aims to transform our understanding of the people who used and worshiped at Stonehenge.
Dr Jim Leary, from the University of Reading's Department of Archaeology and Director of the Archaeology Field School, said: "Finds from the first five weeks of the dig were exciting - but as so often during excavations the best is revealed last. The skeleton is a wonderful discovery which will help tell us what life was like for who lived under the shadow of Stonehenge at a time of frenzied activity. Scientific analysis will provide information on gender of the child, diet, pathologies and date of burial. It may also shed light on where this young individual had lived."
The exciting excavation is in collaboration with Historic England, the Arts and Humanities Research Council and Wiltshire Museum. During this first year archaeologists have found beautifully worked flint arrowheads and blades, decorated pottery, shale and copper bracelets and a beautiful Roman brooch.
The excavation consists of four trenches:
- Marden Henge
- Wilsford Henge (just south of marden)
- A large Roman farm settlement
- Roman enclosure next to Roman farm
All four trenches are in the Vale of Pewsey. Excavations on these sites will continue next year.