'Moving out' campaign aims to reduce the amount of landfill waste
Release Date 05 June 2015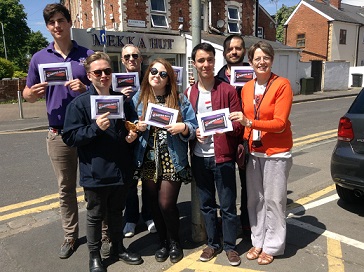 The University of Reading is encouraging students to recycle and minimise the waste that goes into landfill when they vacate their properties at the end of the academic year.
The University, in conjunction with the Neighbourhood Action Group (NAG), Reading University Students' Union (RUSU) and Reading Borough Council's Streetcare Team have joined together once again to hand-deliver 750 'Moving Out' packs to student households in the local community.
The packs offer advice on recycling sites, the civic amenity tip, bulky waste collections and the dates for Reading Borough Council waste and recycling collections. Further advice for students on how to get their deposits back is also provided.
For the first time this year, Reading Borough Council is also offering to collect unwanted small electrical goods for recycling.
The 'Moving Out Packs' initiative was first set-up in 2008 in response to complaints from local residents regarding the waste generated when students vacate properties at the end of term.
This year, a Golden Ticket scheme is encouraging student households to bring their re-usable items to the Students' Union so that they can be used by students going into private accommodation for the first time. Each 'Moving Out' pack contains a RUSU Green Bag and Golden Ticket holders can exchange their green bag of re-usable items for a mystery prize.
Ann Westgarth, University Community Relations Manager, said: "The Moving Out campaign has been a real success in the six years it has been running and I'm sure that it will be again this year. The University has a strong commitment to sustainability so it is important that we encourage students to re-use and recycle their waste as much as possible. Reducing the amount of waste that goes to landfill benefits everyone and hopefully the streets will look tidier as students move out of their rented accommodation."
Chloe Bartlett, Community & Development Officer for RUSU said: "Students living in private households are part of the local community so it is only right that they take responsibility to ensure the waste they leave behind is kept to a minimum. However, we recognise that they need help and advice on how to go about this - for many this is the first time they have vacated private accommodation. This is what the Moving Out campaign is all about."
The Council is putting on a special extra waste collection on Saturday 4 July, when it will also collect any unwanted small electrical items. However, students are encouraged to plan ahead and sort their rubbish more carefully so that more is recycled and less goes to landfill.
Reading Borough Council's Lead Councillor for Neighbourhoods, Liz Terry, said: "It is important to all of us that we help keep Reading clean, safe and green. Working with the University on the Moving Out campaign means that we can encourage students to think about how and when they get rid of their waste before they leave their property.
"This year we are offering students a free kerbside collection of small electrical items. Unwanted items like toasters, kettles, hairdryers and vacuum cleaners can be placed in a carrier bag on top of the students' bin and the Council will ensure these are recycled."
In addition, the 'Moving Out' packs also contain information on a 'Rate Your Landlord' survey, which is being run by RUSU. The aim of the survey is to identify the positives and negatives of renting private accommodation in Reading.