Stephen Fry's Oscar Wilde lecture delights audience
Release Date 05 June 2015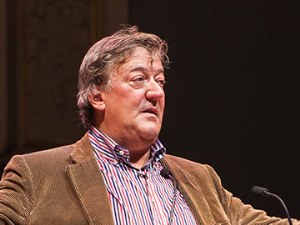 Stephen Fry shared his 'obsession' for Oscar Wilde with a packed audience at the University of Reading's inaugural Town Hall Lecture last night.
The actor, comedian and presenter told the sold-out audience how his love of Wilde - who spent time incarcerated in Reading prison - had influenced and shaped his own life.
The lecture was organised by the University of Reading with the Oscar Wilde Society, of which Fry is honorary patron.
Wilde was incarcerated in the Reading Prison in the 1890s following his infamous conviction for homosexual acts, and became the setting for his celebrated poem The Ballad of Reading Gaol. The prison closed for good in 2013.
Wilde's time behind bars was the subject of original University of Reading research last year, which found contemporary mugshot pictures of Wilde's fellow prisoners.
'Almost Christ-like'
Fry said Wilde was "an almost Christ-like figure ... the greatest of his age, getting taller and taller with every decade that passes."
Fry recounted how he had first encountered Wilde's play The Importance of Being Earnest while growing up in Norfolk. He went on to achieve success on stage and TV, before going on to play Wilde in the film of the same name.
Combining stories from his own life with accounts of Wilde's personal and artistic achievements, as well as his downfall, Fry said Wilde's generosity of spirit and kindness was at least as great as his brilliance as a writer.
After the lecture, he said: "I had a wonderful evening giving the University of Reading's inaugural Town Hall Lecture about, amongst other things, my love of Oscar Wilde. I think it is safe to say that I had a much better time in Reading than he did, poor soul."
Sir David Bell, the University's Vice-Chancellor, thanked Fry for 'educating, stimulating and moving' the 700-strong audience.