Reading recognised for teaching excellence
Release Date 11 June 2015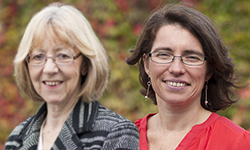 Two University of Reading members of staff have been rewarded for their commitment to improving student teaching and learning.
Dr Elizabeth Page, Associate Professor of Chemistry Education and Dr Paddy Woodman, Director of Student Development and Access, have both been awarded National Teaching Fellowships (NTF). They are among 55 recipients of this year's awards which are presented by the Higher Education Academy (HEA).
NTFs were nominated by their institutions with submissions having to show evidence of three criteria: individual excellence, raising the profile of excellence and developing excellence.
Professor Gavin Brooks, Pro-Vice-Chancellor for Teaching and Learning, said: "I am delighted for Paddy and Elizabeth. These awards help recognise the tremendous work that both have undertaken to promote and enhance teaching excellence at Reading and beyond.
"Paddy's cross-institution work has impacted the lives of tens of thousands of students. In particular, she introduced the University's first employability/skills award: the Reading Experience and Development (RED) Award. This not only encourages students to take part in a wide range of extra- and co­ curricular activities, but engages students in a process of peer-facilitated reflection on the skills they have gained, as well as considering their future goals.
"Paddy also has a strong and pro-active commitment to diversity and inclusion. She has implemented a substantial suiteof measures to enhance social mobility and has led a significant project on the black and minority ethnic attainment gap. This led to a commitment to obtain the Race Equality Charter Mark.
"Elizabeth has taught chemistry at Reading for over 25 years. She has led the development of new teaching methodologies in the areas of context-based learning, team-based learning and technology-enhanced learning. She is a fervent evangelist for chemistry education and equal access, and has established a strong community of practice of local chemistry teachers committed to enthusing students in the subject.
"Elizabeth has a strong reputation both nationally and internationally in chemistry education, publishing text books and workbooks to support students beginning undergraduate studies. Elizabeth has travelled widely to discuss learning and teaching, along with curriculum and programme development, and she advises nationally on accreditation and A-level specifications."
Dr Elizabeth Page said: "I am really thrilled to be awarded a prestigious National Teaching Fellowship. The award reflects my long-standing interest in developing innovative teaching in chemistry, and also the support the University of Reading dedicates to promoting the enhancement of learning and teaching. I'm really grateful to everyone I've worked with along the way who have helped this happen."
Dr Paddy Woodman said: "Since starting my academic career my interests in student learning have been broad, but have been consistently driven by doing what I thought necessary to give students the best possible chance at University and in life. My career path has not been a conventional one but my goal throughout has been to try to make a difference to students and staff. I am therefore truly delighted to receive this NTF award."
The NTF award was created to celebrate individuals who make an outstanding contribution to teaching and learning and the student experience.
The scheme is funded by the Higher Education Funding Council for England, the Higher Education Funding Council for Wales and the Department for Employment and Learning in Northern Ireland. It is open to staff whose teaching or support roles enhance the student learning experience.