Reading staff recognised in the Queen's Birthday Honours
Release Date 15 June 2015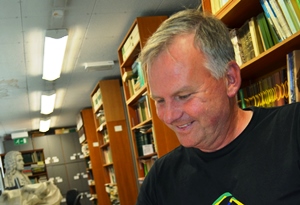 Four University of Reading staff have been recognised by Her Majesty in the Queen's Birthday Honours List, announced at the weekend.
More Reading staff were nominated by the Prime Minister in the latest round of nominations for official honours than from any other university, apart from Cambridge.
Sir David Bell, University of Reading Vice-Chancellor, said: "I would like to extend my warmest congratulations to the four current and former University of Reading colleagues who were recognised by Her Majesty The Queen in the Birthday Honours list.
"Their individual achievements in four very different fields are outstanding. What unites them is longstanding dedication and commitment to their work which is rightly being recognised.
"I am particularly pleased to see so many Reading colleagues being honoured among the 50 recipients across the higher education sector as a whole."
Trevor Pitman, technical manager in the School of Biological Sciences, is to be awarded the British Empire Medal for services to higher education.
Mr Pitman has worked at Reading for 40 years. In this time he co-ordinated Reading's Chelsea Flower Show entries for 25 years, including two gold medal-winning displays. He also runs outreach events such as work placement and school visits to the University, and served as chairman of the Friends of the Harris Garden.
Kate Arnold-Forster, director of the University's Museum of English Rural Life and head of the Museums and Special Collections Service, was awarded an MBE for services to University museums.
As well as working, curating, volunteering and leading parts of the museums sector for more than two and a half decades, Ms Arnold-Forster is currently co-chair of the University Museums Group.
Professor Patricia Leopold, who is now a sessional lecturer in the School of Law, is a previous head of the school and is also awarded an MBE, for services to Higher Education.
Professor Leopold joined the University in 1974. She became a professor in 2006 and was head of the School of Law from 2004 to 2009, before retiring in 2010. She has continued to lecture on a part-time basis and helps organise 'pro bono' legal activities.
Professor Averil Macdonald, Professor Emeritus, University of Reading, who was Professor of Science Engagement at Reading between 1996 and 2014, was awarded an OBE for services to women in science and public engagement with science.
Professor Macdonald is currently leader of the South East Physics Network's diversity and impact agendas, is a trustee of the Science Museum and a director of the Cheltenham Festivals.
In addition, a former Reading academic was awarded a CBE.
Dr James Noel Adams, FBA Emeritus Fellow at All Souls College, Oxford, was awarded a CBE for services to Latin Scholarship. Dr Adams was Professor of Latin at Reading's Department of Classics from 1995-97.