World close to climate deal, UK diplomat tells Walker Institute Annual Lecture
Release Date 17 June 2015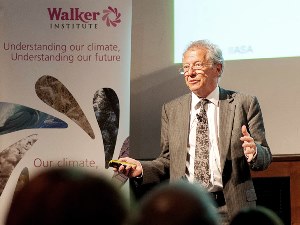 The world is well placed to reach a meaningful deal on curbing climate change, the UK's top climate diplomat told the audience at the University of Reading Walker Institute annual lecture last week (10th June 2015).
Around 200 people heard Sir David King, the UK's special representative for climate change, provide a positive assessment of the chances for success at the climate negotiations in Paris in December this year.
The Walker Institute Annual Lecture took place on 10 June at the Royal Geographical Society in London. A large and diverse audience of 200 people learnt from Sir David King's experiences as the UK's top climate diplomat. Sir David has worked tirelessly with governments and business around the world to secure ambitious global action on climate change.
Sir David gave his audience a stark reminder of how important it is to achieve a global deal on climate change this year, reiterating the words of Mary Robinson, UN Special Envoy for Climate Change, who said that 2015 was as critical a year for our civilisation as 1945, when the UN was first established after the Second World War.
Sir David was optimistic about an agreement at the Paris Climate Summit in December, but emphasised that it should be seen as the beginning and not the end.
'Lifted'
With the US and China now on board the 'block' at the failed climate summit of 2009 in Copenhagen was no longer there, he said. Climate finance may be another potential deal breaker at Paris, but Sir David said he was 'enormously lifted' by the recent commitment by G7 countries to the global goal of $100 billion per year to help transition the world to a low carbon and resilient economy.
He highlighted the role that developing technologies will play and the opportunities that climate change can bring. He added: "We need bright minds to develop solutions and new technologies."
Professor Steve Mithen, University of Reading Deputy Vice-Chancellor, opened the event and welcomed all on behalf of the University of Reading. He said: "The Walker Institute is one of the pillars within the University of Reading for delivering our climate related research and engaging with external audiences."
Professor Nigel Arnell, Director of the Walker Institute, said: "2015 is a pivotal year for climate policy and so it is fitting that our the Walker Institute Annual Lecture this year is presented by Sir David King who can give us a first-hand view of that policy process. As the highlight of our external engagement calendar it's wonderful to welcome such a diverse audience to our lecture."
The audience was drawn from a broad range of organisations including central and local government, business sectors such as environment, energy, insurance and finance, research organisations and funders, environmental charities and members of the general public.
Slides and audio recording of the event are available, or follow the conversation on Twitter using #walkerlecture