New home for Cocoa Quarantine Centre sweet news for chocolate lovers

Release Date 25 June 2015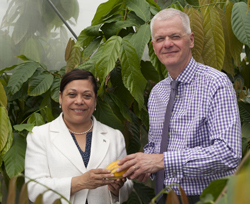 The University of Reading has officially opened the new £1m home for its International Cocoa Quarantine Centre (ICQC), which has been safeguarding the future of chocolate for 30 years.
ICQC is the only facility of its type in the world - ensuring cocoa producing countries receive varieties that are free from pests and diseases.
Guests to the opening included the Nicaraguan Ambassador to the UK and VIPs from the chocolate industry. After attending a reception hosted by Vice-Chancellor of the University of Reading, Sir David Bell, visitors got a taste of Reading's cocoa research by taking a tour of the state-of-the-art greenhouse with ICQC experts.
With demand for cocoa products, especially chocolate, surging, particularly in the Asia-Pacific region, there are growing supply problems in the global chocolate industry. This is compounded with the fact that over 30% of global cocoa production is lost through major pests and diseases. The new ICQC is a pivotal part of an international effort to combat supply problems.
After two years in quarantine, clean and safe cocoa cuttings are shipped from Reading to some 20 different cocoa-producing countries, including several in West Africa. These can then be incorporated into breeding programmes to create new varieties with higher yields and greater pest and disease resistance.
Professor Paul Hadley heads up the University of Reading's cocoa programme. He said: "The work and research undertaken at the University has never been more important. Demand for cocoa is going up and up, particularly in countries like China where the standard of living is increasing and people are getting a taste for some of these confectionery products.
"In South and Central America, the centre of cocoa origin, two major diseases, Frosty pod and Witches' Broom disease have had a major impact on commercial production. If these diseases spread to other cocoa producing regions such as West Africa it would absolutely devastate the industry. Therefore, safe movement of cocoa via ICQC is of paramount importance."
Ms Guisell Morales-Echaverry Ambassador, Nicaraguan Ambassador to the UK, said: "Although Nicaragua only produces 4000 tons of cocoa every twelve months we are looking to double production over the coming years. The unique International Cocoa Quarantine Centre will ensure our crops are clean, high yielding and go on to make great chocolate. Nicaragua looks forward to developing a strong partnership with the Centre and the University of Reading."
Mr Loke Fong Han, Senior Economist at the International Cocoa Organisation, added: "My visit was very interesting, especially coming from an organisation where we hear the challenges facing the global cocoa industry. The work of the Quarantine Centre is vital. Instead of transferring cocoa from country to country, we have this safe movement of materiel through the quarantine centre which is free from pest and disease. This of huge value to the sector."