Can man-made materials self-repair? Reading showcases ground-breaking research at Royal Society
Release Date 29 June 2015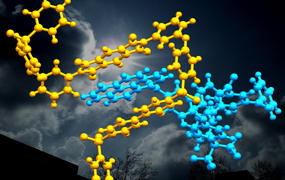 Cutting-edge University of Reading research which could lead to safer air and car travel will be showcased at the renowned Royal Society Summer Science Exhibition.
Running from 30 June to 5 July, the Exhibition is an annual display of the most exciting science and technology in the UK.
Reading's exhibit focuses on its self-healing polymer work. Biological materials, such as bone and skin, can regenerate after damage but until recently such self-repair was almost unknown in man-made materials.
The display will explain how materials, called polymers, can be designed to contain complementary molecular surfaces that will reconnect to repair damage. Self-healing polymers could vastly improve the durability and safety of critical components in cars and aircraft.
The research is led by Professors Howard Colquhoun and Wayne Hayes from the University's Department of Chemistry, in collaboration with Professor Clive Siviour of the University of Oxford's Department of Engineering Science. Prof Colquhoun and his team will be on hand to talk to visitors about their work.
Professor Colquhoun said: "We are very pleased to be a part of this prestigious public event. Polymers are materials made of many repeating units connected together - the best-known examples of which are plastics. When man-made polymers suffer excess mechanical or thermal stress, they become irreversibly damaged.
"Our research designs and develops self-repairing polymers by incorporating atoms and molecules that can re-bind after damage. The design process starts with computer simulations then moves to experimental studies in the lab, before testing prototypes of new materials in real-world situations. The aim for these new plastics is to enable car and aircraft components to repair themselves when broken."
The University of Reading's work on reducing greenhouse gas emissions from livestock and animal health and nutrition will also be featured at the Exhibition on the 'Meat Matters' display
The Exhibition is located in the Royal Society, 6-9 Carlton House Terrace, London, SW1Y 5 AG and takes place from Tuesday 30 June to Sunday 5 July 2015.