Could Jesus' house in Nazareth have been found?
Release Date 03 March 2015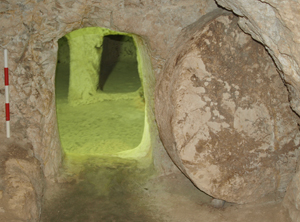 A building thought to be where Mary and Joseph raised Jesus has been found by an archaeologist from the University of Reading.
While conducting a wider archaeological study of Nazareth and its hinterland, in Israel, Dr Ken Dark identified a Byzantine church with a crypt or cellar containing a first-century AD house.
The church matches the description in a famous late seventh-century pilgrim account, De Locis Sanctis (concerning the holy places) of the church built above the house where it was believed that Jesus was brought up centuries before.
The house is partly made of mortared stone walls, and partly cut into a rocky hillside. Due to its location and careful preservation in later centuries the building is incredibly well preserved.
The house and remains of the Byzantine church are now preserved in the Sisters of Nazareth convent in the centre of the modern city of Nazareth. Although they were known to the nuns and pilgrims since the 1880s, their significance was unrealised prior to Dr Dark's work and they had never been recorded or published in detail.
Dr Dark, from the University of Reading's Research Centre for Late Antique and Byzantine Studies, said: "Although world-famous for its association with Jesus Christ, Nazareth had received surprisingly little attention from archaeologists. The convent cellars contain well-preserved Roman-period, Byzantine and later walls and other features. These include a first-century house, early Roman-period burials and a Byzantine cave-church. Above them once stood a large Byzantine church, encompassing the earlier house and tombs in its crypt."
Dr Dark identified this as the Church of the Nutrition, described in the seventh-century pilgrim account De Locis Sanctis, so-called because it was built to encapsulate the house where Jesus was brought up.
Dr Dark added: "De Locis Sanctis describes a crypt with two tombs either side of the house where it was believed Jesus had been raised by Mary and Joseph. These features are present at the Sisters of Nazareth site."
In 2006, the nuns at the convent granted Dr Dark and his team complete access to the site along with records and finds from earlier excavations. By combining a detailed recording of the site and objects, with an extensive review of earlier unpublished work by the nuns and a Jesuit priest, Henri Senès, they built up a clear picture of the site's development from its first century origins.
"The first-century house is associated with broken sherds of cooking pots and a spindle whorl used in spinning thread," continued Dr Dark. "We also found what may be pieces of limestone vessels suggesting a Jewish family lived in the house - during the first century Jewish beliefs held that limestone could not become impure.
"Was this the house where Jesus was brought up? It is impossible to say on archaeological grounds, but nor is there any archaeological reason why such an identification need be discounted. What we can say is that the Byzantines probably believed that it was."
Dr Ken Dark is Director of the Nazareth Archaeological Project Byzantine Studies. The project aims to re-examine Roman-period and Byzantine Nazareth and its hinterland, using up-to-date archaeological methods.
Dr Dark and his team have published journal articles on their work in the Palestine Exploration Quarterly and The Antiquaries Journal. More publications on the team's archaeological work at Nazareth are forthcoming.