University is runner-up for best marketing campaign at Guardian University Awards 2015
Release Date 19 March 2015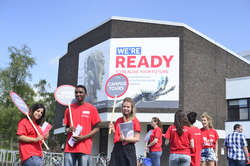 The University of Reading has been named a joint runner-up for the best 'Marketing and Comms Campaign' at the Guardian University Awards 2015.
The winners and runners-up of the Guardian University Awards 2015, which showcase best practice, achievement and innovation across a range of categories, were announced at an awards ceremony in central London last night [18 March].
The awards were judged by a panel of industry experts, which included former Minister for Universities and Science Rt Hon David Willetts MP, Nick Hillman, Director of Higher Education Policy Institute (Hepi) and vice-chancellors from across the country. The winner of the best 'Marketing and Comms Campaign' was Loughborough University and Reading was joint runner-up with Bath Spa University.
In 2014, the University of Reading launched a national advertising campaign targeting potential undergraduates - the first in its history. The 10-month long, multichannel 'Are You Ready?' campaign focussed on high-impact online and outdoor geo-targeted advertising (concentrating on the M4 corridor and London), which showcased Reading's research and teaching using eye-catching images and challenging headlines.
This formed part of a wider undergraduate recruitment campaign that was designed to fundamentally transform the prospective student experience, from attracting initial interest from the right students, to overhauling Open Days and then converting prospective students into applicants. By the end of the UCAS application deadline in mid-January, the University had seen a 21% increase in applications, way above the sector average of just 2%.
The University worked with strategic brand agency Bell and media buying agency SMRS as part of the campaign.
Gemmaine Walsh, Director of Marketing, Communications & Engagement at the University of Reading said: "I am so proud that we have been awarded runner-up for the best marketing campaign at this year's Guardian University Awards. A lot of hard work went into creating the 'Are You Ready' campaign and getting recognition from industry peers is fantastic.
"Universities are operating in an increasingly competitive environment - creating campaigns that stand out from the crowd is therefore imperative in the battle to attract high quality students."