How are researchers tackling the dementia time-bomb? Public find out latest research
Release Date 24 March 2015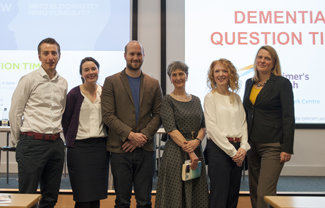 Is there a link between vitamin B12 deficiency and dementia? Are the increasing incidences of dementia associated with the digital revolution? These and other questions were posed to a panel of experts by the public during a dementia Question Time event at the University of Reading last week.
University researchers Dr Mark Dallas, Dr Angela Bithell, from the School of Pharmacy, and Dr Carien van Reekum, from the School of Psychology and Clinical Language Sciences, were on the panel along with Dr Emma O'Brien from Alzheimer's Research UK.
Joining them were Jamie Anderson, son of legendary Thunderbirds creator Gerry Anderson who had Alzheimer's Disease, and Marianne Talbot, author of 'Keeping Mum' which describes her journey through caring for a family member with dementia.
The panellists took questions from an audience of people from a wide variety of ages who are affected in some way by the disease. Reading scientists discussed their cutting-edge research and the challenges in developing novel treatments to combat Alzheimer's disease.
Dr Mark Dallas said: "We were delighted to host this public event. Dementia, which Prime Minister David Cameron has called a 'ticking time-bomb', affects over 3,400 people in Reading and South Oxfordshire alone. This question and answer session was a great opportunity for the community to learn more about the latest efforts to better understand the diseases that cause dementia. Many thanks to those who attended and to Jamie and Marianne for joining the panel."
The event was sponsored by the Alzheimer's Research UK Oxford Network Centre. Alzheimer's Research UK is the UK's leading dementia research charity, which funds research into dementia causes, diagnosis, preventions and treatments. They are currently funding more than £26m of dementia research across the UK including projects at the Universities of Oxford and Reading.
Dr Laura Phipps, of Alzheimer's Research UK, said: "Dementia touches the lives of almost 25 million people in the UK and so it's natural for people to have questions about the condition, what causes it and what's being done to help those affected. This public event provided a perfect platform for people to have their questions answered and to hear about the pioneering research taking place in the region to improve the lives of those with dementia.
In recent years we've seen a welcome focus on dementia and the need for more research, and we must continue to build on this momentum to make real progress for those affected."
Jamie Anderson commented: "Coping with and looking after a loved one with dementia can be extremely difficult and frustrating. The most important thing I learnt was to stop trying to bring dad my world, and instead enter his. By engaging in a way that made sense to him it made life so much easier and less distressing for him and for me."