University Court celebrates academics' achievements
Release Date 24 March 2015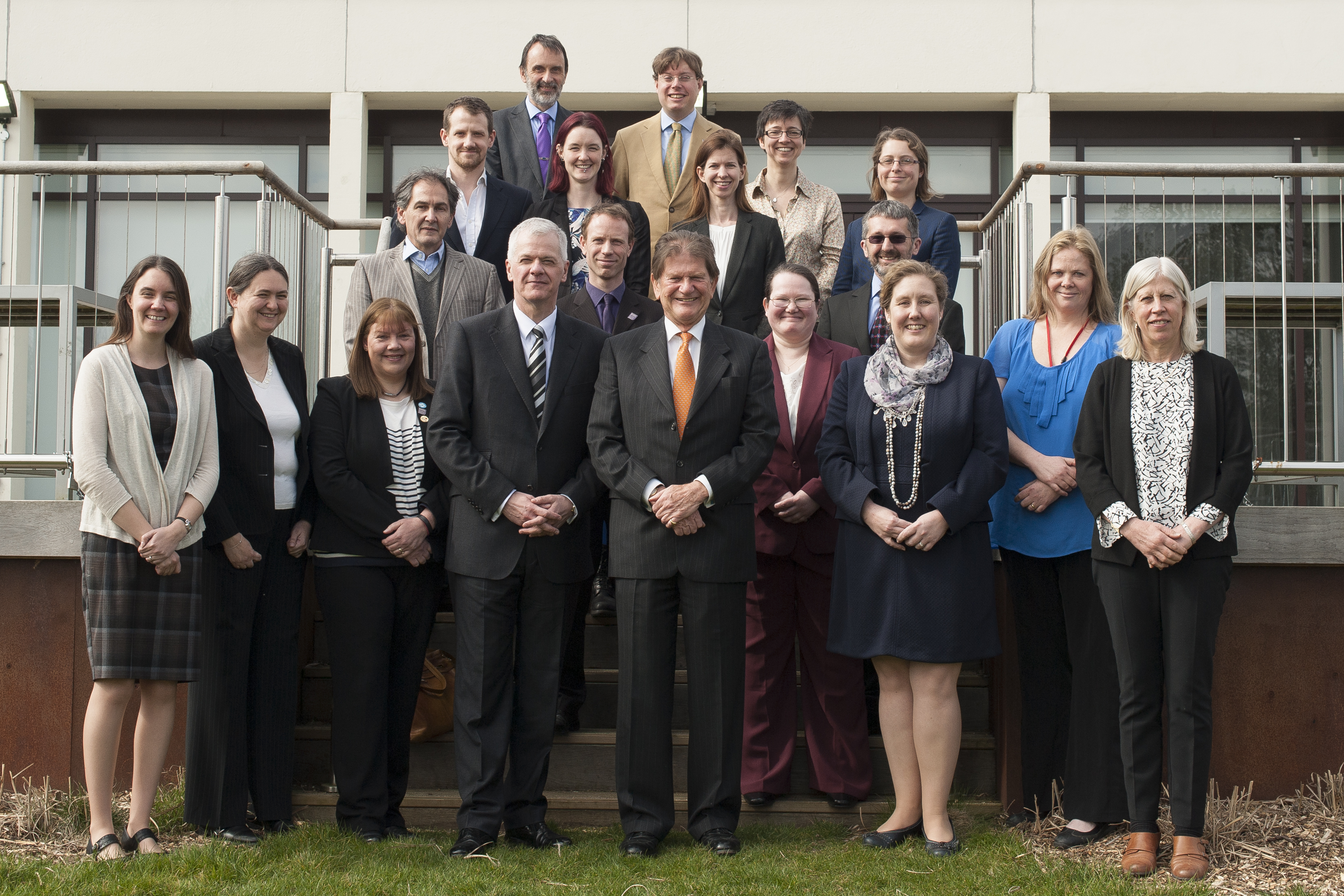 Members of the University Court came together yesterday [23 March] to celebrate the achievements of academic staff during the last 12 months.
Prizes were awarded to 18 members of staff for outstanding teaching and learning, research and public communication work.
Chancellor of the University, Sir John Madejski, opened Court, followed by a speech from Vice-Chancellor Sir David Bell, who praised staff for their achievements and spoke of the University's highlights from the last year.
Public Communications Prize (presented by Vice-Chancellor, Sir David Bell)
This award recognises academic staff who have engaged, by sharing their research and expertise, with the national and international media over the last 12 months.
Dr Hannah Cloke, Professor of Hydrology in the Department of Geography and Environmental Science was awarded with this year's prize. Her knowledge on flooding has seen her appear on programmes such as Newsnight, BBC Breakfast, Sky News and Channel 4 News, as well as being quoted by the likes of The Times, the Guardian and the Financial Times. Her research has also led to her winning a Natural Environment Research Council (NERC) award for impact.
Best Research Output Prizes (presented by Deputy Vice-Chancellor, Professor Steve Mithen)
Each year the University awards prizes for the best research outputs from each of its four faculties. The winners receive £1,000 (funded by the Research Endowment Trust Fund), which can be spent on supporting their research in any way they choose.
Arts, Humanities and Social Science: Dr Matthew Sperling, Department of English Literature, has been awarded this year's prize for the best output by an early career researcher. This is for his monograph, based on his recent PhD thesis, on the poetry of Geoffrey Hill. The Review of English Studies states that it is 'one of the best guides to Hill's work currently available.'
Henley Business School: Dr David Littlewood, School of Marketing and Reputation, has been awarded this year's prize for his paper 'Cursed Communities? Corporate Social Responsibility (CSR), Company Towns and the Mining Industry in Namibia'. This paper draws upon empirical research undertaken in Namibia and, in particular, in three case study communities.
Life Sciences: Professor Mark Pagel, School of Biological Sciences, has been awarded this year's prize for his paper 'Ultra-conserved words point to deep language ancestry across Eurasia', which has attracted worldwide media attention.
Science: Dr Hella Eckardt, Department of Archaeology, has been awarded this year's prize for her volume: 'Objects and Identities - Roman Britain and the North-Western Provinces'. The volume explores Rome's Northern provinces through the portable artefacts people used and left behind.
National Teaching Fellowship (presented by Pro-Vice-Chancellor for Teaching and Learning, Professor Gavin Brooks)
The Higher Education Academy runs the National Teaching Fellowship Scheme (NTFS) and each year up to 55 awards of £10,000 are made to recognise individual excellence.
The NTFS recognises and celebrates individuals who make an outstanding impact on the student learning experience, and provides a national focus for institutional teaching and learning schemes.
This year the University of Reading made three nominations and Professor Matthew Almond, Department of Chemistry, has been awarded a National Teaching Fellowship. Matthew's teaching ethos is focused around the students as 'partners' and combining 'old and 'new'. His approach was instrumental in the introduction of technology-enhanced learning at the University.
Teaching Fellowships (presented by Pro-Vice-Chancellor for Teaching and Learning, Professor Gavin Brooks)
The University of Reading Teaching Fellowship is a prestigious award given to academics who have demonstrated individual excellence and contributed to the development of teaching and learning within the University. This year, 11 fellowships were awarded:
Dr Karen Ayres (Mathematics and Statistics)
Dr David Nutt (Chemistry, Food and Pharmacy)
Dr Katja Strohfeldt (Chemistry, Food and Pharmacy)
Helen Bilton (Institute of Education)
Dr Matthew Nicholls (Classics)
Dr Katrina Bicknell (Chemistry, Food and Pharmacy)
Dr Michelle Reid (Student and Academic Services)
Dr Emma Mayhew (Politics and International Relations)
Dr Rebecca Green (Chemistry, Food and Pharmacy)
Catherine Foley (Institute of Education)
Dr Alastair Culham (Biological Sciences)
Knowledge Transfer Partnerships (KTP) National Forum Award (presented by Vice-Chancellor, Sir David Bell)
KTP is a national scheme which supports commercially based collaborations between industry and researchers based in universities and other research organisations. Professor Rachel McCrindle, School of Systems Engineering has been recognised for her commitment and significant contribution to the continued success and profile of the KTP programme in the UK.
Distinguished Fellowships (presented by Chancellor, Sir John Madejski)
Distinguished Fellowships are awarded to individuals who have made an important and lasting contribution to the work of the University of Reading over a number of years. Two Distinguished Fellowships were awarded this year:
John Short
David Gibbons MBE
Sir David Bell, Vice-Chancellor of the University of Reading said: "The annual meeting of the University Court is a great opportunity to look back and reflect on the achievements of the last 12 months, and clearly we are lucky to have so many talented individuals in our midst.
"However, we must also take it as an opportunity to look to the future. As an institution we have set ourselves ambitious targets and have a clear vision for the type of university we want to be. To make sure we reach those targets we must continue to strive for excellence in all that we do."